We believe we can change the world through Sustainable Hostelling.     
Hostelling International is dedicated to promoting sustainable tourism practices among our National Hostelling Associations and with Hostels themselves. We are committed to achieving a worldwide network of sustainable organisations and hostels. 
With more than 100 years of experience we strive continually to improve and expand our network to new places, meanwhile working with governments and voluntary agencies to create the same positive practices and high standards everywhere.                                
Policy
Hostelling International (HI) and its member associations commit to intensifying their efforts to achieve a worldwide network of sustainable organisations and hostels.
The HI Sustainability Charter – Our Policy in Sustainable Tourism has been adopted by our General Assembly in 2010 by HI and each member association. It is based on the Global Sustainable Tourism Council  (GSTC) criteria, an organisation dedicated to promoting sustainable tourism practices around the world. We are working together to foster increased understanding of sustainable tourism practices. 
"GSTC commends Hostelling International for adopting sustainable policies and practices. HI shows its commitment to the full breadth of sustainability and responsible travel issues by striving to adhere to their standards which are GSTC-Recognized for their compliance to the GSTC Criteria, the global standard for sustainable travel and tourism."   Randy Durban, CEO of Global Sustainable Tourism Council (GSTC)
Strategy
HI's strategy to implement the HI Sustainability Charter is through the 10 areas of sustainable hostelling: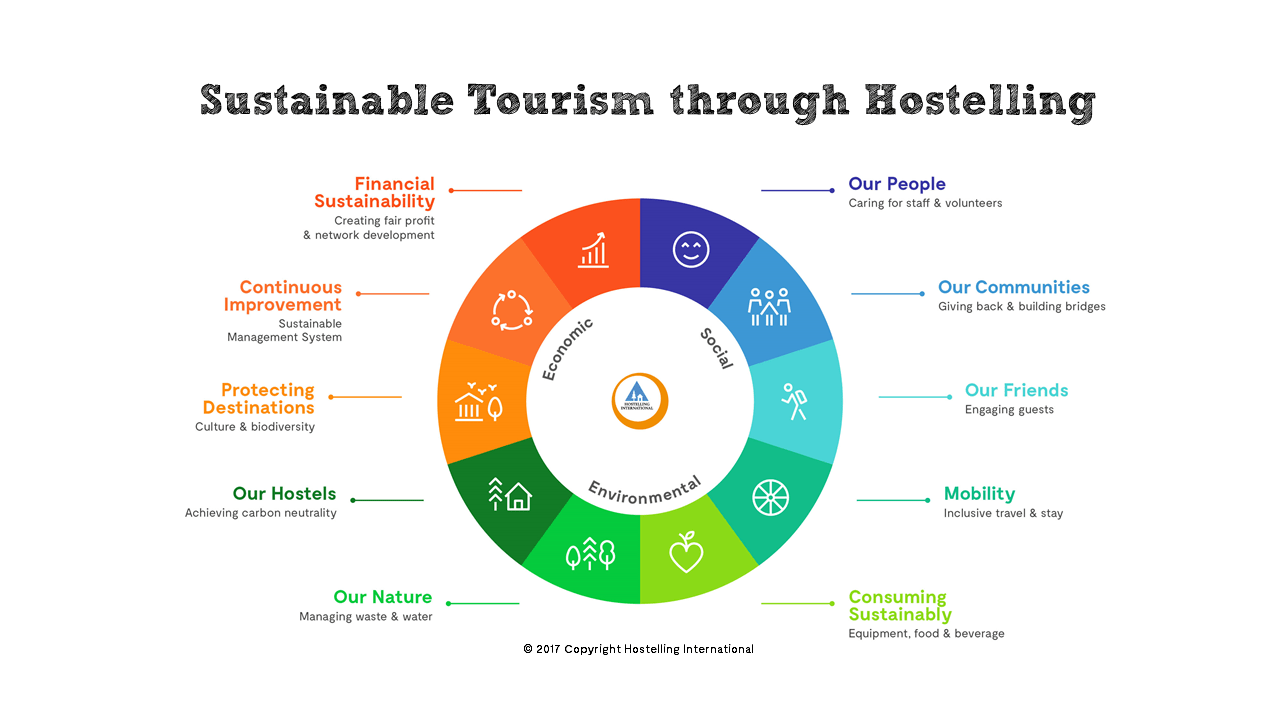 Contributing to the SDGs
The UN Sustainable Development Goals (SDGs) - the global goals aiming to eradicate worldwide issues by the year 2030 – are a crucial part of our focus and each of our programmes and projects highlight their contribution towards the SDGs.
HI is part of the UN World Tourism Organisation (UNWTO) Board of Affiliate Members and leaders of UNWTO Sustainable Development Goals Working Group and we are strongly committed to engage all our members in contributing to the 2030 Global Agenda.
Management Systems
 You are at the centre of everything we do. While your budget may be limited, the quality of our hostels is not! We aim to provide you with the most enjoyable stay possible, while offering excellent value for money. Therefore, we have developed a way of ensuring quality and sustainability in our hostels, firstly through our internationally agreed upon HI Standards, and secondly through HI's Quality & Sustainability Management System: HI-Q&S.
HI-Q&S is a long-term programme of continuous improvement that allows hostels and associations to advance their quality and sustainability practices. Implementing HI-Q&S increases the hostels' transparency and accountability of why and how they are sustainable. Why is this so important? Because it helps deliver the HI Mission, it assures operational efficiency, risk management and customer satisfaction while helping you make informed decisions and be part of a global community of responsible travellers. 
The HI Quality & Sustainability Management System is 'Recognised' by the Global Sustainable Tourism Council. It includes the HI-Quality (HI-Q) step and those hostels who implement the sustainability criteria are awarded HI-Quality & Sustainability (HI-Q&S).
Only those hostels which successfully complete and meet the requirements will be certified every 3 years by an external auditor, and are able to display the distinctive logos:
HI-Q&S is used in 38 Associations and 450+ Hostels worldwide.
Read the HI-Q&S criteria and see the full list of HI-Q&S Contracted Hostels.
Labels
Check out some of the sustainability related labels that can be found in the HI Hostels.