With more than 4,000 hostels worldwide in fantastic and unique locations. Find your dream experience Hostelling International
Sorry, this content is not currently available in the mobile view. Switch back to desktop view to access this page.
The Big Blog Exchange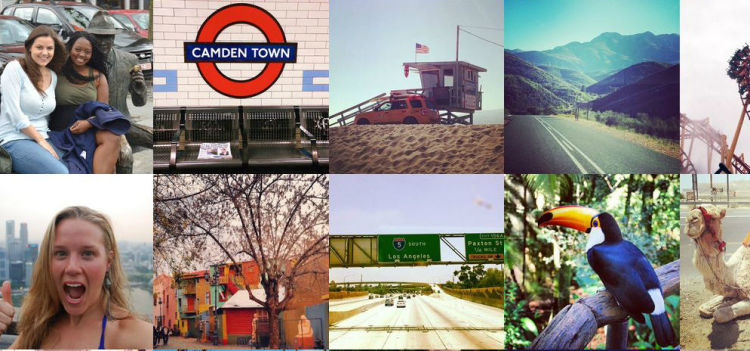 The Big Blog Exchange is an exciting and unique competition run by Hostelling International. Started in 2013, the first Big Blog Exchange saw 16 lucky bloggers exchanging lives, and blogs, for 10 days.
How does it work?
The competition is open to everyone, new and established bloggers alike. The aim is to encourage an understanding of different cultures throughout the world using the power of words – that's where the bloggers come in.
Over 1,000 bloggers entered the competition with their eyes on the prize of exchanging lives with a fellow blogger in a destination unknown to them. They could have ended up anywhere in the world, stepping into any blogger's shoes.
The entrants were then whittled down to 100 finalists by public vote, before being put through to the judging panel who decided on the lucky 16 bloggers who got to take part in the exchange. The bloggers' motivation, passion and inspiration for taking part in the exchange were all factors in the deciding vote.
The bloggers then swapped lives and blogs with another winner and were whisked off to all corners of the world to experience living in a culture they may never have otherwise experienced.
What happened on the exchange?
HI set an itinerary for each blogger from treetop walking in Singapore to floating in the Blue Lagoon in Iceland. In between these activities, the most important part of the trip was getting to know the locals, gaining a new understanding of their culture and writing their thoughts into each other's blogs so we could follow their journey as it happened and learn as they learnt.
Audur Osp from Reykjavik, Iceland, found herself travelling to Israel to take part in the exchange. She was initially filled with doubt about travelling to the country but her opinion soon changed:
"I decided to leave the politics at home and approach this amazing opportunity with an open mind. An open mind doesn't mean you throw away your beliefs and principles… Israel surprised me. It surprised me in more ways than I can describe in a few words. It also taught me so much about myself and how easy it is to slip into a state where you start looking at the world as a big bad thing instead of the amazing wonder that it really is. It reminded me that you can enjoy the company of people you don't agree with and how much you can learn from listening to their reasons and thoughts."
What happened next?
Our biggest hope was that the bloggers would return with open minds and this was certainly what we achieved. The bloggers' words had a profound effect on us and, hopefully, you.
So far, the Big Blog Exchange has been awarded the Marketing Innovation Award at the World Youth Service Enterprise (WYSE) Travel Confederation's Global Youth Travel Awards, as well as Best Marketing at the Youth Travel Awards. It has also received nominations for further prestigious awards, including the World Tourism Organisation Awards of which we'll keep you updated. Winning and being nominated for these notable awards tells us that our message to encourage global understanding has travelled far and wide and that makes us a happy bunch.
Will there be another Big Blog Exchange?
Yes! We're currently in the planning stages of the Big Blog Exchange 2014 and after the success of 2013 we hope to make it even bigger and better. Keep updated on the goings on by clicking here.