With more than 4,000 hostels worldwide in fantastic and unique locations. Find your dream experience Hostelling International
Sorry, this content is not currently available in the mobile view. Switch back to desktop view to access this page.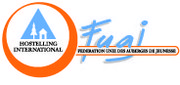 Strasbourg - 2 Rives
Situated in Strasbourg at the border. Come and enjoy a breakfast in France while enjoying a view of the Rhine and Germany.
10 or more people?
strasbourg-2-rives
What travellers think
Travellers that stayed here think this hostel is best for
Sightseeing
Nature-lovers
Relaxing
Culture
---
Reviews
petit-déjeuner etwas zu "petit". Brot, Marmelade, Kaffee ist einfach zu wenig!
Matthias,
Sun 23 Aug 2015
Bon emplacement et bon accueil mais tout ceci s'efface devant le fait que cette auberge est infestée par des punaises de lit. Nous avons été obligés de changer de chambre à 1h du matin pour tenter de nous soustraire à ces insectes. Après discussion, nous avons découvert que le personnel connaissait la présence de ces insectes et qu'un autre groupe y a été confronté pendant notre séjour.
frederic,
Sun 09 Aug 2015