With more than 4,000 hostels worldwide in fantastic and unique locations. Find your dream experience Hostelling International
Sorry, this content is not currently available in the mobile view. Switch back to desktop view to access this page.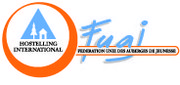 Strasbourg - 2 Rives
Situated in Strasbourg at the border. Come and enjoy a breakfast in France while enjoying a view of the Rhine and Germany.
10 or more people?
strasbourg-2-rives
What travellers think
Travellers that stayed here think this hostel is best for
Sightseeing
Nature-lovers
Relaxing
Eco-tourism
---
Reviews
A friendly atmosphere. Location on the periphery somewhat problematic: As single female traveller, I found the area a little unsafe. Another problem: there was a bad stench in my room (comparable to a dead, rotting animal). Opening the window solved the problem temporarily, after closing the window the smell came back, so the problem has to lie within the room. I hope that this problem has been solved in the meantime. A plus: the member's kitchen is very well equipped and clean.
Monika,
Sun 05 Jul 2015
Funcionários nada prestativos. Localização ruim. Muito longe de tudo.no mais, bom
Rosaly,
Wed 01 Jul 2015
Esta a 20 min en bici de la ciudad, y parece ser que reciben subvenciones por meter a toda la chusma. Jamás volveré a ese hostel. El desayuno es la peor calidad de comida que puedas imaginar.
Ramses,
Mon 29 Jun 2015
The room door can be opened with a card that always deactivates. In one evening when my card was deactivated again I was waiting 30 min to get into my room because the receptionist had dinner and told that did not bother her during dinner:(
Edina,
Fri 19 Jun 2015