With more than 4,000 hostels worldwide in fantastic and unique locations. Find your dream experience Hostelling International
Sorry, this content is not currently available in the mobile view. Switch back to desktop view to access this page.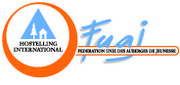 Strasbourg - 2 Rives

Situated in Strasbourg at the border. Come and enjoy a breakfast in France while enjoying a view of the Rhine and Germany.
10 or more people?
strasbourg-2-rives
What travellers think
Travellers that stayed here think this hostel is best for
Sightseeing
Nature-lovers
Relaxing
Sports & Activities
---
Reviews
frederic,
Wed 30 Dec 2015
4 nuits, j ai fait 3 chambres, on a eu le culot de me dire les autres on reserve Moi aussi j ai réserve par internet J ai eu l impression de gêner, le prix 26€ c est cher, pas de wifi, loin des bus de la ville, pas de bar Je suis decue, par contre je leur ai emmène un mr qui ne savai pas ou passer la nuit, sans réservation il a paye 37€ une chambre seul qui a exige avec l adhésion alors qu au début cela lui coûte 51€, moralité ne réserver pas et payer en espèce, on vous fera une bonne remise
simone,
Wed 23 Dec 2015
Location was superb. We walked from the train station (11/2 hours) would recommend that those who do not like to walk take a bus that comes regularly. Great place to be in if you want to get away from the hustle and bustle and noise of the city. Staff are friendly and helpful.
Sheila,
Tue 22 Dec 2015
Petit déjeuner de très mauvaise qualité , qui ne répond plus à notre époque dommage qu'il soit payable et obligatoire . vous pourriez proposer du salé et du 1/2 complet, quant à l'obligation de la carte de l'AJ il serai préférable quelle ne reste pas a la tête du client et qu'on puisse pouvoir opter pour une carte internationnale car je vais partir à l'étranger et je ne sais pas si je vais pouvoir l'utiliser, bilan les 2 jours me reviennent un peu chère pour l'éloignement et la prestation.
geneviève,
Mon 21 Dec 2015