With more than 4,000 hostels worldwide in fantastic and unique locations. Find your dream experience Hostelling International
Sorry, this content is not currently available in the mobile view. Switch back to desktop view to access this page.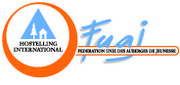 Strasbourg - 2 Rives

Situated in Strasbourg at the border. Come and enjoy a breakfast in France while enjoying a view of the Rhine and Germany.
10 or more people?
strasbourg-2-rives
What travellers think
Travellers that stayed here think this hostel is best for
Sightseeing
Nature-lovers
Relaxing
Culture
---
Reviews
This hostel was really far out of town, took a good 45 min from the central station. It was also a pretty dark walk from the bus station at night. It was in a really quiet area but near a nice park. Also, on my last morning there I woke up with several red bites along my arms and neck, not sure where they came from but they didn't look like bed bug bites. The free breakfast was not good, my yogurt looked like it had gone bad and the honey was solidified in the packets.
Megumi,
Thu 26 Nov 2015
I would have liked separate containers for recyclables rather than having to put everything in the waste bin. Washer and dryer not running efficiently. Possibly both required a service, 3 drying cycles to dry jeans is not efficient! (yes I did check the lint filter) Lots of information on things to do in the area around the hostel.
Jason,
Thu 12 Nov 2015
I liked your friendly and helping approach towards guests. You were kind and helpful in any kind of problems.
Kornelia,
Sat 07 Nov 2015
It is a great place to stay at. The receptionists are very friendly and cooperative. The best part for me was speaking with them in different languages. However, I had to cut my stay short because it was a little too heavy on the pocket. Maybe if you could reduce the prices, you could get more visitors. It was rather expensive.
Harshad,
Wed 04 Nov 2015
Im Zimmer haben 2 Lichter nicht funktioniert, u.a. das an meinem Bett. Im 4Personen Zimmer gab es gerade mal 2 Steckdosen. Die Schlüsselkarten zum öffnen des Zimmers haben auch meist nicht funktioniert. Wurde im Zimmer mit einer ca.50 jährigen Frau untergebracht. Jugendherberge?! Lage im Park ist zwar schön, aber auch sehr dezentral. 30 Minuten von der Sbahn entfernt. Ohne Auto schwierig. Frühstück war ganz gut, nur etwas Obst wäre schön gewesen.
Maria,
Mon 02 Nov 2015