With more than 4,000 hostels worldwide in fantastic and unique locations. Find your dream experience Hostelling International
Sorry, this content is not currently available in the mobile view. Switch back to desktop view to access this page.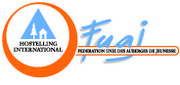 Sète
A youth hostel in the city centre, in the heart of a shady forest. The terrace offers a wonderful sea view.
10 or more people?
sete
What travellers think
Travellers that stayed here think this hostel is best for
Relaxing
Sightseeing
Culture
Nature-lovers
---
Reviews
Une auberge à un enplacement extraordinaire, un conseil "secret" qui vaut être choisi. Equipe sympatique et apte à donner de bons conseils à n'importe quel sujet.
Markus,
Tue 06 Oct 2015
Excelente albergue, pos su ubicacion, comodidad y amplitud natural.
Eugenio,
Mon 28 Sep 2015
J'espère que cette auberge existera l'an prochain car il y a des inquiétudes cocernant la mairie propriétaire et qui verrai bien une opération immobilière à la place d'une auberge!
pierrette,
Sat 26 Sep 2015
J'ai commencé à fréquenter les A.J. à 22 ans, il y a plus de 40 ans (!) les échanges amicaux et culturels entre jeunes de tous pays ouvrent l'esprit et ont sans doute , participé à construire l' Esprit Européen" à son départ.. Aussi, vivant seule, j'aime bien parfois me replonger dans cette ambiance multilinguale, gaie et spontanée. J'ai été bien accueillie, la douche était chaude, la chambres et ses abords propres, le "p'tit déj"très bon, les arbres séculaires réconfortants. MERCI !
Geneviève,
Thu 24 Sep 2015
A spacious well organised hostel with helpful staff. Would certainly stay there again if visiting Sete.
Richard,
Sun 20 Sep 2015