With more than 4,000 hostels worldwide in fantastic and unique locations. Find your dream experience Hostelling International
Sorry, this content is not currently available in the mobile view. Switch back to desktop view to access this page.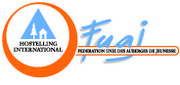 Sète
A youth hostel in the city centre, in the heart of a shady forest. The terrace offers a wonderful sea view.
10 or more people?
sete
What travellers think
Travellers that stayed here think this hostel is best for
Relaxing
Sightseeing
Culture
Socialising
---
Reviews
fin de saison un jour pas de pain au petit déjeuner, le lendemain plus de beurre, plus de confiture; un autre jour jus de fruits imbuvable , machine à café défaillante....
Fabienne,
Thu 29 Oct 2015
super freundliche, hilfsbereite und herzliche Mitarbeiter; schöne Lage und ungewöhnliches Design der Häuser durch Terassen-Stil mit schöner Aussicht; Zimmer ist ok, leider Schließfächer defekt und Dusche nicht besonders ansprechend; Terasse und Empfangsbereich schön gestaltet Absolut ok, um dort zu bleiben.
Fransiska,
Sat 24 Oct 2015
Tres bon accueil:disponibilité, conseils,arrangeant sur la remise des clefs le jour du départr
MARIE,
Thu 22 Oct 2015
Man sieht, dass in der Jugendherberge wenig Geld zur Verfügung steht. Der Ausbau ist einfach und zweckmässig, für unsere Zwecke aber sehr passend. Wir fanden das Angebot sehr günstig und werden gerne wiederkommen.
Roland,
Sun 18 Oct 2015
Une auberge à un enplacement extraordinaire, un conseil "secret" qui vaut être choisi. Equipe sympatique et apte à donner de bons conseils à n'importe quel sujet.
Markus,
Tue 06 Oct 2015