With more than 4,000 hostels worldwide in fantastic and unique locations. Find your dream experience Hostelling International
Sorry, this content is not currently available in the mobile view. Switch back to desktop view to access this page.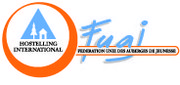 Sète
A youth hostel in the city centre, in the heart of a shady forest. The terrace offers a wonderful sea view.
10 or more people?
sete
What travellers think
Travellers that stayed here think this hostel is best for
Relaxing
Sightseeing
Culture
Nature-lovers
---
Reviews
Bon séjour, je le recommande déjà, cadre exceptionnel... bon accueil, rencontres positives
Joëlle,
Wed 26 Aug 2015
Die Auberge de Jeunesse ist wunderbar gelegen, man hat eine grossartige Rundsicht. Für Menschen, die nicht so gerne aufsteigen und kein Auto haben ist das wohl ein Problem. Es war toll, eine Küche zu haben, natürlich war dort die Ordnung nicht so perfekt, aber es ging gut. In unserem Gebäudeteil war die Haustüre defekt, man konnte also nicht abschliessen. Ich aber freue mich, dass ich für wenig Geld ein paar Tage wohnen kann, interessante Gespräche habe, dafür etwas weniger Komfort.
Franziska,
Tue 25 Aug 2015
L'auberge était très sale, j'en étais gêné pour les voyageurs étrangers. Le ménage n'a pas été fait de la semaine et le lavabo dans la chambre était donc dégueu... Une impression de laissez-aller également en ce qui concerne la sécurité (serrure de la porte d'accès au sas donnant sur les chambres cassée). Je précise que je n'ai pas l'habitude de me plaindre comme çà et que j'ai connu cet AJ il y a qq années et en était enchanté.
Guillaume,
Fri 21 Aug 2015