With more than 4,000 hostels worldwide in fantastic and unique locations. Find your dream experience Hostelling International
Sorry, this content is not currently available in the mobile view. Switch back to desktop view to access this page.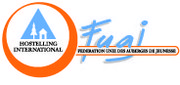 Rouen
Our 18th century hostel is situated near a little river. You will enjoy this peaceful place which is only 10 minutes from the centre.
rouen
What travellers think
Travellers that stayed here think this hostel is best for
Sightseeing
Culture
Relaxing
Nature-lovers
---
Reviews
Lage in der Nähe der Altstadt Rouen. Sauber, freundlich, unkompliziert.
Hansueli,
Wed 24 Jun 2015
Rouen,
Fri 26 Jun 2015
Very nice. Friendly staff. Nice breakfast. Actually not to far from town really. And the bus stops outside anyway.
Dylan,
Wed 17 Jun 2015
Rouen,
Fri 19 Jun 2015
Wifi inaccessible. Bruit de l'eau de la douche à côté de la chambre. Très bon accueil, arrangeant pour garder la valise. Chambre propre et ensoleillée, vue sympathique. Endroit tranquille et peu bruyant.
Manon,
Sun 14 Jun 2015
Rouen,
Tue 16 Jun 2015
Situated in a beautiful location, with opportunity for a shaded walk along the mill stream.
Jill,
Sun 07 Jun 2015
Rouen,
Tue 09 Jun 2015