With more than 4,000 hostels worldwide in fantastic and unique locations. Find your dream experience Hostelling International
Sorry, this content is not currently available in the mobile view. Switch back to desktop view to access this page.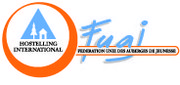 Rouen
Our 18th century hostel is situated near a little river. You will enjoy this peaceful place which is only 10 minutes from the centre.
10 or more people?
rouen
What travellers think
Travellers that stayed here think this hostel is best for
Sightseeing
Culture
Relaxing
Shopping
---
Reviews
Had a wonderful time. The manager was a fabulous man who was so very very helpful.
Diana,
Wed 26 Aug 2015
Rooms facing sun far too hot needs some air conditioning
John,
Thu 20 Aug 2015
The room was very nice. However, the wifi didn't work when I was there so I wanted to move somewhere else. I was told at reception that I couldn't have a refund as the money now belonged to the Hostelling International company and that I would have to contact them directly to obtain a refund. I contacted them and they said that I would have to contact the hostel...
Paul,
Tue 18 Aug 2015
pos: free parking, security (digi pass to enter the building + rooms), clean rooms, walking distance to city center, nice garden and indoor possibilities to sit and relax. neg: 4 bed-rooms are too small for 4 people, poor breakfast, hidden location (it should be better indicated), pc with internet didn't function, no common room to meet other travellers, green rating: don't understand the pictograms, and didn't see any possibility to sort waste, bathrooms weren't clean when I was there.
Anja,
Sat 08 Aug 2015