With more than 4,000 hostels worldwide in fantastic and unique locations. Find your dream experience Hostelling International
Sorry, this content is not currently available in the mobile view. Switch back to desktop view to access this page.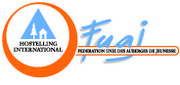 Rennes

A few steps from the historic city centre, the hostel has the charm of the old bourgeois property. The canal that runs along a Vie Verte, is the ideal base for exploring Brittany.
10 or more people?
rennes
What travellers think
Travellers that stayed here think this hostel is best for
Sightseeing
Relaxing
Culture
Socialising
---
Reviews
Très bon séjour : auberge propre et agréable et personnel très sympathique !
myriam,
Sun 25 Oct 2015
I loved the location it was a little out of the way but really wonderful
Gabrielle,
Sun 18 Oct 2015
I stayed two nights at Rennes Auberge de Jeunesse and it was Fine, not exceptional (Like Pontivy) and not terrible, I understand it is not the same in a city hostel compared as a provincial one, but the experience was not as good, with many restrictions and rules in place, which prevented me resting for two days on a long cycle ride, which was my plan. so my rating is Fine/OK, it was interesting to meet some of the long term residents, who seem to be the main users of the Hostel.
david,
Thu 15 Oct 2015