With more than 4,000 hostels worldwide in fantastic and unique locations. Find your dream experience Hostelling International
Sorry, this content is not currently available in the mobile view. Switch back to desktop view to access this page.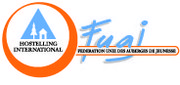 Rennes
A few steps from the historic city centre, the hostel has the charm of the old bourgeois property. The canal that runs along a Vie Verte, is the ideal base for exploring Brittany.
10 or more people?
rennes
What travellers think
Travellers that stayed here think this hostel is best for
Sightseeing
Relaxing
Socialising
Culture
---
Reviews
staff is so kind! they helped me alot. and very clean
JIYOON,
Tue 25 Aug 2015
Kitchen poorly stocked for plates and cutlery
John,
Fri 21 Aug 2015
Biggest downside of this hostel is the noisy courtyard outside the dorms where guests & their visitors stay up til all hours socialising. If it is too hot to close the window, then it is impossible to sleep because of the noise coming from outside. There needs to be a curfew (say 11pm?) that is enforced. Also not sure if those using the courtyard were in fact hostel guests or outsiders so bit of security risk there. Everything else was good, especially breakfast & wi-fi included in the price.
Francesca,
Mon 17 Aug 2015
The self catering kitchen is immaculate the cleanest i have ever seen, a pleasure to be in. Its a very friendly and safe environment
Patricia,
Sun 16 Aug 2015