With more than 4,000 hostels worldwide in fantastic and unique locations. Find your dream experience Hostelling International
Sorry, this content is not currently available in the mobile view. Switch back to desktop view to access this page.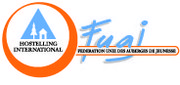 Rennes
A few steps from the historic city centre, the hostel has the charm of the old bourgeois property. The canal that runs along a Vie Verte, is the ideal base for exploring Brittany.
Join the HI community
Hostelling International is a membership organisation. In some countries, you need to be a member to stay at our hostels – but wherever you stay if you're a member you'll get at least a 10% saving on accommodation, plus a range of other great discounts.