With more than 4,000 hostels worldwide in fantastic and unique locations. Find your dream experience Hostelling International
Sorry, this content is not currently available in the mobile view. Switch back to desktop view to access this page.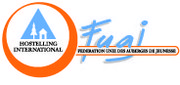 Poitiers
Book your stay at Poitiers in Poitiers
10 or more people?
poitiers
What travellers think
Travellers that stayed here think this hostel is best for
Relaxing
Sightseeing
Nature-lovers
Volunteering
---
Reviews
Lorsque je suis arrivée avec ma famille, il y'avait un mariage. D'après l'hôtesse elle n'était pas prévu. Et le bruit était insupportable jusqu'à 1H voir 2H du matin. Ils ont déclenchés la l'arme de détection de fumé vers minuit. Ont voulant fumé peut être. Quel foutoir. Il y'avait deux familles avec des enfants au dessus de la salle de fête. Mon Dieu quel calvaire lorsque on vient de Paris très fatigué pour voir ça. C'était NUL !!!!
Martial Aubert,
Thu 30 Apr 2015
suggestions for improvement: better signs outside to find hostel more easily lack of secure parking for a motorbike
PAUL,
Fri 17 Apr 2015
Die JH- Poitiers ist groß und geräumig mit einem wunderschönen großen Garten. Das Personal ist sehr freundlich und hilfsbereit. Mit einem Bus (Haltestelle ist ganz nah) kann man die schöne Innenstadt sehr gut erreichen. Aber bitte, HABT PASSENDES Kleingeld zur Hand. Die Busfahrer wechseln NICHT !
Christa,
Fri 29 Aug 2014