With more than 4,000 hostels worldwide in fantastic and unique locations. Find your dream experience Hostelling International
Sorry, this content is not currently available in the mobile view. Switch back to desktop view to access this page.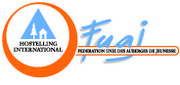 Paris - Yves Robert

At the heart of the City of Light, this lively place will seduce you with its modern look, green outlook and its location at the crossroads of Europe.
10 or more people?
paris-yves-robert
What travellers think
Travellers that stayed here think this hostel is best for
Sightseeing
Socialising
Culture
Eco-tourism
---
Reviews
A l'exception de l'eau de douche qui n'était pas assez tiède à ce moment là (Moi qui suis habitué à l'eau chaude & en plus avec un rhume), j'ai apprécié ma première expérience dans cet auberge. Un bon petit déjeuner, une salle pour lire & surtout l'occasion d'avoir un nouvel ami. J'y reviendrai à coup sûr.
MOHAMED MOUAD,
Fri 05 Feb 2016
Es un poco alejado de los sitios turísticos. El sector qué lo rodea no es muy agradable, se percibe un poco de temor por inseguridad en la noche, aunque nunca nos paso nada. Muy bonitas las instalaciones, limpio, rico desayuno y muy amable el personal decla receocion
Mónica Piedad,
Wed 03 Feb 2016
J'ai adoré mon séjour !! c'était la première fois !!! j'ai aimé la convivialité du salon, du bar, la rencontre avec d'autres personnes !! cette impression d'être un peu comme chez soi avec beaucoup de monde !! je recommencerai ... c'est certain !! J'ai aimé aussi toutes les actions environnementales ..
isabelle,
Mon 01 Feb 2016