With more than 4,000 hostels worldwide in fantastic and unique locations. Find your dream experience Hostelling International
Sorry, this content is not currently available in the mobile view. Switch back to desktop view to access this page.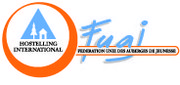 Paris - Jules Ferry
Between the North and East Station and the Marais, the property offers a family atmosphere and intimate setting.
10 or more people?
paris-jules-ferry
What travellers think
Travellers that stayed here think this hostel is best for
Sightseeing
Culture
Socialising
Shopping
---
Reviews
The place needs refurbishing. Some bed bugs noted
Francisco,
Sun 02 Aug 2015
Co-ed showers is a problem. Also, the laundry room was a disaster and there was not only no soap, but no way to buy soap, no machines that gave the option. There was also not a machine to get change, which is helpful when you are required to use change to get lockers, or wifi. Having to pay for wifi is extremely inconvenient. Also, the room was not extremely clean, and there was hardly any hand soap anywhere in the hostel.
Heather,
Thu 30 Jul 2015
It would be nice if the kitchen could be equipped with a stove, so to be able to prepare regular meals. The use of the lift should be permitted at all times; if you are in a room on the 3rd or 4th floor it is not comfortable to go up the stairs every time. A small chair or stool in the shower room would be useful.
Alessandra,
Thu 30 Jul 2015
Tuve una estancia muy agradable con ustedes, por supuesto volvería a ir.
ALICIA,
Wed 29 Jul 2015