With more than 4,000 hostels worldwide in fantastic and unique locations. Find your dream experience Hostelling International
Sorry, this content is not currently available in the mobile view. Switch back to desktop view to access this page.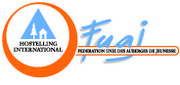 Paris - Jules Ferry
Between the North and East Station and the Marais, the property offers a family atmosphere and intimate setting.
10 or more people?
paris-jules-ferry
What travellers think
Travellers that stayed here think this hostel is best for
Sightseeing
Culture
Socialising
Shopping
---
Reviews
une désagréable surprise ;des piqures de punaise sur la cheville et dans l oreille dans le lit du bas de la chambre 25 au 2 ème étage or le samedi matin un autre occupant avait également des piqures de punaises de lit sur l avant bras droit
france,
Mon 23 Nov 2015
l immeuble est vétuste mais assez bien entretenu le confort est très rudimentaire -- le lit de la chambre 25 occupée le 12/11/ au 13/11 a surement des puces car j ai eu des 5 piqures autour de la cheville de la jambe droite et dans l 'oreille gauche -- le personnel est sympa et accueillant; l'emplacement est idéal pour le tourisme parisien
france,
Sun 22 Nov 2015
Hace falta mucho mantenimento a todas las instalaciones, la sensción general es de descuido y de falta de inversión, los baños y regaderas están horribles, los lockers en los cuartos son pequeñísimos, la luz eléctica en los cuartos también es muy pobre, no se puede ni leer . En el desayuno uno no se puede servir personalmente el café, leche, jugo etc. porque no dejan que uno toque las máquinas despachadoras de líquidos. No se siente libertad para tomar la cantidad de liquidos deseados.
gabriela,
Tue 17 Nov 2015