With more than 4,000 hostels worldwide in fantastic and unique locations. Find your dream experience Hostelling International
Sorry, this content is not currently available in the mobile view. Switch back to desktop view to access this page.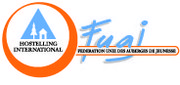 Paris - Cité des Sciences
The hostel is ideally located for exploring Paris and to visit the park of La Villette.
10 or more people?
paris-cite-des-sciences
What travellers think
Travellers that stayed here think this hostel is best for
Sightseeing
Relaxing
Socialising
Culture
---
Reviews
Beschreibung der Lage ist nicht ganz nachvollziehbar, obwohl eine Tafel dort steht, nützt diese nicht gerade viel, denn weiter hinten bei der Verzweigung fehlt eine weitere Tafel. Ansonsten ein tolles Hostel für einige Nächte. Frühstück ist in Ordnung. Gibt Brot, Corneflakes und Kaffe und Orangensaft.
Stephanie,
Sun 26 Jul 2015
personnel sympathique et aidant, merci! le confort et la propreté est plutôt correcte: seul bémol: la présence insuffisante voire l'absence dans les chambres de prises alors que charger son téléphone portable est vital ne serait ce que pour se réveiller le matin etc
Selim,
Sat 25 Jul 2015
Staff couldn't speak English. It was very humid and warm due to no air conditioner.
Seonglyong,
Thu 23 Jul 2015
The ONE power outlet in my room didn't work. So the four of us had to spend time sharing the limited number of outlets in the common room or sit in the hallway to charge our phones.
Antionette,
Mon 20 Jul 2015