With more than 4,000 hostels worldwide in fantastic and unique locations. Find your dream experience Hostelling International
Sorry, this content is not currently available in the mobile view. Switch back to desktop view to access this page.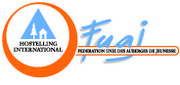 Paris - Cité des Sciences
The hostel is ideally located for exploring Paris and to visit the park of La Villette.
10 or more people?
paris-cite-des-sciences
What travellers think
Travellers that stayed here think this hostel is best for
Sightseeing
Socialising
Culture
Relaxing
---
Reviews
Il faudrait installer des prises électriques dans les chambres (1 seule prise au niveau du lavabo pour une chambre de 6 lits) et demander de nouveau à la mairie des poubelles pour le tri sélectif. L'auberge est éloignée du centre-ville mais c'est une donnée connue à la réservation (elle est proche de la station de métro). Le petit déjeuner est simple (pas de salé contrairement à ce que j'ai connu dans d'autres auberges) mais bon. Très agréable séjour parisien.
Karine,
Wed 11 Nov 2015
Very good and comfortable.
Maxim,
Mon 02 Nov 2015