With more than 4,000 hostels worldwide in fantastic and unique locations. Find your dream experience Hostelling International
Sorry, this content is not currently available in the mobile view. Switch back to desktop view to access this page.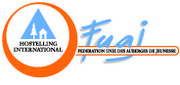 Paris - Cité des Sciences
The hostel is ideally located for exploring Paris and to visit the park of La Villette.
10 or more people?
paris-cite-des-sciences
What travellers think
Travellers that stayed here think this hostel is best for
Sightseeing
Relaxing
Socialising
Culture
---
Reviews
No toilet paper in toilet first day. Floors could be cleaner. Difficult location to find without good instructions. Noisy environment. Liked the commraderie with other clients.
Ruth,
Tue 06 Oct 2015
Using more signs to find the hostel would be more helpful. The staff was nice and helpful (speak English). The accommodation was appropriate and clean. The breakfast wasn't very big: rolls, jam, butter, cereal, coffee and orange juice (but I didn't expect much for the price that we were paying). There wasn't much to do in the hostel besides playing chess so I would recommend installing a billiard table or a fussball table. Overall we had a good experience and I would recommend going there.
Linda,
Sun 04 Oct 2015
Overall, I am very satisfied with the hostel. The people there are very friendly and helpful. The only thing I felt inconvenient is that in the dorm, they did not equiped with electric socket. Meaning that I had to wait in the common area (e.g canteen or kitchen) to charge my phone.
hue,
Mon 28 Sep 2015
Rooms are very small and there are not enough sockets for such things as shaving and mobile phones. Not in a splendid neighbourhood but cleaning up the garden and open it all day to guests would improve things. People might want to rest there after a long day in Paris. Bonus: M-station Hoche is very nearby.
Hein,
Mon 28 Sep 2015