With more than 4,000 hostels worldwide in fantastic and unique locations. Find your dream experience Hostelling International
Sorry, this content is not currently available in the mobile view. Switch back to desktop view to access this page.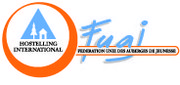 Nîmes
Discover the monuments of the French Rome, go to the Pont du Gard, share the sweetness of the evenings in the hostel under the olive trees.
nimes
What travellers think
Travellers that stayed here think this hostel is best for
Sightseeing
Nature-lovers
Unique atmosphere
Relaxing
---
Reviews
it's literally in the middle of nowhere... i'm not even sure I'd call that nimes. if i came back again, i'd use airbnb or a hotel - it's not worth the hassle to get there.
Georgia,
Thu 02 Jul 2015
L'auberge de jeunesse comme on la rêve : chaleureuse et conviviale, super accueil, le lieu est très beau également.
Elise,
Sun 14 Jun 2015
Fabulous stay. Great hostel, but amazing staff. The combo of meticulous attention to detail, focussing on people and a great culture of fun makes it the best hostel/hotel I've ever stayed in.
fionnola,
Fri 12 Jun 2015