With more than 4,000 hostels worldwide in fantastic and unique locations. Find your dream experience Hostelling International
Sorry, this content is not currently available in the mobile view. Switch back to desktop view to access this page.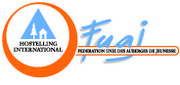 Nîmes
Discover the monuments of the French Rome, go to the Pont du Gard, share the sweetness of the evenings in the hostel under the olive trees.
10 or more people?
nimes
What travellers think
Travellers that stayed here think this hostel is best for
Relaxing
Sightseeing
Nature-lovers
Socialising
---
Reviews
Trop dommage que les chèvres sont partis ; pour le reste : merci beaucoup, c'était génial comme d'hab !
Fabian,
Sun 04 Oct 2015
J'aime l'accueil, le cadre de l'auberge. Je m'y repose bien, j'aime le petit déjeuner et le dîner. Nous en avions parlé : veiller à affiner l'encadrement des groupes d'ados, à partir de leur retour d'activités. Inviter les encadrants à garder un oeil sur eux, faire comprendre l'interdiction des batailles rangées, même ludiques, la nécessité de respecter les matériels-équipements-lieux, la nécessité de la modération sonore en soirée (sauf événements programmés) et du couvre-feu vers 22h.
Franck Philippe,
Mon 28 Sep 2015
une ambiance super bonne entre tous.on ce sent pas "seul",comme dans la plupart des endroits que on entouré des gens mais distants et on sent la solitude;j'ai mis moyen pour le confort parce que les coussins sont trop petits pour les adultes. envie de retourner au rencontre des gens super sympa.l'endroit est excellent. accueil très bon
Valdemar Joaquim,
Wed 23 Sep 2015
Nice staff. Nice grounds. Efficient reception, and very helpful. Mosquitos were rampant. Good food and good availabilty and price. Great staff. Good facilities for washing clothes. Breakfast is an extra price which is unusual. Hostel is at the end of the world. Difficult to find on a bike or walking and very far from city center but close to bus stop. Closet had mold in it from leaky roof maybe. Bathrooms seemed dirty, not sure how often they are cleaned. Nice outdoor areas
Melissa,
Sat 19 Sep 2015
J'ai bien aimé la propreté, la nature et l'accueil des personnels. Par contre, l'auberge manque gravement de la sécurité; ils m'ont volé le portable pendant mon séjour, et le pire, ils n'ont pas pu identifier le voleur, par manque des caméras de surveillance et de qualité d'image. J'espère qu'il aura d'évolution sur ce point !
Sofien,
Mon 14 Sep 2015