With more than 4,000 hostels worldwide in fantastic and unique locations. Find your dream experience Hostelling International
Sorry, this content is not currently available in the mobile view. Switch back to desktop view to access this page.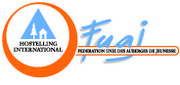 Nîmes

Discover the monuments of the French Rome, go to the Pont du Gard, share the sweetness of the evenings in the hostel under the olive trees.
10 or more people?
Prices are members' prices