With more than 4,000 hostels worldwide in fantastic and unique locations. Find your dream experience Hostelling International
Sorry, this content is not currently available in the mobile view. Switch back to desktop view to access this page.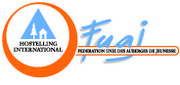 Nice - Mont Boron
a hostel full of life with a view of Nice and the Bay of Angels, in with a summer atmosphere created by our international team!
10 or more people?
nice-mont-boron
What travellers think
Travellers that stayed here think this hostel is best for
---
Reviews
It is a pity that the last bus from the centre of Nice to the hostel leaves before eight p.m.. That means you can't enjoy Nice by night without having to pay for a taxi. Also, the breakfast is very basic. It would be a good thing if something sweet was offered alongside the baguette and cornflakes. The people working in the hostel are very kind and helpful, though.
Aaron,
Fri 27 Sep 2013
This was a complicated stay. Only open 8am-10am then 5pm-11pm. There's only one bus which gets you up the hill where the hostel is and the last bus was at 7:30pm so you were stuck in the hostel from 8pm. I can walk for miles but that hill was impossible. On the first night I got lost and had to get a cab (after 3 refused to take me to the hostel as it was 'too far') that cost 37 Euros and then bang on the door at midnight until another traveller let me in with a night key he had put a 50 Euro deposit down for. I feel it would be a good idea if there was maybe a later night bus system run by the hostel, where one member of stuff go to a central location in Nice at around 10pm with a mini-van and pick up anyone still in Nice for a small fee. We had a system like this at university so everyone got home safe and it was a huge success. I certainly would never book this hostel again or recommend it purely on its awkward location.
Molly,
Tue 24 Sep 2013
Manager,
Thu 26 Sep 2013
trenton,
Tue 24 Sep 2013
Manager,
Thu 26 Sep 2013
The view is worth the price of admission alone. Lovely reception staff and superb place to chill overlooking one of my favourite cities in Nice. Trenton
trenton,
Fri 20 Sep 2013
Manager,
Sun 22 Sep 2013
ménage dans la chambre pas fait dans les coins ni sous les lits! douches pas toutes propres. Sinon, très calme, petit déjeuner correct
christelle,
Wed 04 Sep 2013
Manager,
Fri 06 Sep 2013