With more than 4,000 hostels worldwide in fantastic and unique locations. Find your dream experience Hostelling International
Sorry, this content is not currently available in the mobile view. Switch back to desktop view to access this page.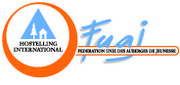 Nice - Mont Boron
a hostel full of life with a view of Nice and the Bay of Angels, in with a summer atmosphere created by our international team!
10 or more people?
Welcome to our hostel
Around the hostel
Join the HI Community

At HI, we want everybody to be able to enjoy the real hostelling experience: more than a place to stay, this is about opening minds, meeting new people, cultural immersion and getting travellers involved in our global activities. We love travelling as much as you do, so we have high hostel standards wherever we expand on the planet, but more than where you rest your head, this is about taking something unforgettable away with you – wherever you come from, or are going next.

Become a member!

Being a HI member means you get 10% discount on your overnight bookings - but we're so much more than a bed: we offer HI members a whole range of great deals and offers through our partnerships worldwide. From museums and tours, to adventure activities and national parks, enjoy the benefits of the real hostelling experience.