With more than 4,000 hostels worldwide in fantastic and unique locations. Find your dream experience Hostelling International
Sorry, this content is not currently available in the mobile view. Switch back to desktop view to access this page.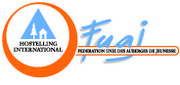 Nice Camélias

Beautiful villa nicoise with a garden and patio in the heart of the city!
10 or more people?
nice-camelias
What travellers think
Travellers that stayed here think this hostel is best for
Sightseeing
Shopping
Culture
Relaxing
---
Reviews
O recepcionista noturno é ruim.
Ana Paula,
Mon 25 Jan 2016
c'est difficile à trouver...
tom,
Sun 24 Jan 2016
Der Monsieur am Servicedesk hat mich sehr zuvorkommend bedient. Die Zimmer sind sehr klein, aber das ist ok. Ein Problem sehe ich darin, dass ich mein Gepäck nicht einschließen kann. In der JH in NY gibt es z.B. Stahlschränke mit Schloss. Aus diesem Grund werde ich die JH wohl nicht mehr besuchen oder künftig mein Gepäck am Bhf. einschließen, sofern möglich.
Petra,
Tue 12 Jan 2016