With more than 4,000 hostels worldwide in fantastic and unique locations. Find your dream experience Hostelling International
Sorry, this content is not currently available in the mobile view. Switch back to desktop view to access this page.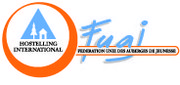 Nice Camélias
Beautiful villa nicoise with a garden and patio in the heart of the city!
10 or more people?
nice-camelias
What travellers think
Travellers that stayed here think this hostel is best for
Sightseeing
Shopping
Relaxing
Culture
---
Reviews
Am späten Abend war es teilweise extrem laut durch gewisse Gäste draussen auf dem Sitzplatz oder den Balkonen. Strenger sein und die an die Nachtruhe erinnern. Das war für mich der einzige negative Punkt.
Andrea,Yukio,Narumi und Misae,
Wed 29 Jul 2015
Super sejour. L.auberge est une des meilleures q je suis restee. Personnel magnifique. Proprete emplacement chambres et equipements vraiement super..sincerement rien a ajouter
marcia,
Sun 26 Jul 2015
Super sejour. L.auberge est une des meilleures q je suis restee. Personnel magnifique. Proprete emplacement chambres et equipements vraiement super..sincerement rien a ajouter
marcia,
Sun 26 Jul 2015