With more than 4,000 hostels worldwide in fantastic and unique locations. Find your dream experience Hostelling International
Sorry, this content is not currently available in the mobile view. Switch back to desktop view to access this page.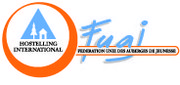 Nice Camélias
Beautiful villa nicoise with a garden and patio in the heart of the city!
10 or more people?
nice-camelias
What travellers think
Travellers that stayed here think this hostel is best for
Sightseeing
Shopping
Relaxing
Culture
---
Reviews
It was a good stay. I would suggest adding some kind of protein to the breakfast. I was there seven nights and I would have liked if eggs or a meat of some sort was added to breakfast. Others I roomed with talked of the same thing. Otherwise all was good there. Very grateful for a hostel like this. I wasn't happy that the elevator kept breaking down. I have a bad knee and the stairs were tough on the third floor for me. Not good for people with disabilities. Staff tried their best to handle this
Andrea,
Fri 28 Aug 2015
The location was perfect, and had sociable atmosphere.
Siyeon,
Fri 28 Aug 2015
Là cuisine ne possède aucune ouverture, il y fait très chaud après que chacun ait fait sa cuisine. Je pense qu'il serait bien d y mettre une fenêtre.
danielle,
Wed 26 Aug 2015