With more than 4,000 hostels worldwide in fantastic and unique locations. Find your dream experience Hostelling International
Sorry, this content is not currently available in the mobile view. Switch back to desktop view to access this page.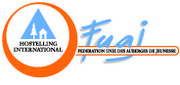 Nice Camélias

Beautiful villa nicoise with a garden and patio in the heart of the city!
10 or more people?
nice-camelias
What travellers think
Travellers that stayed here think this hostel is best for
Sightseeing
Shopping
Culture
Relaxing
---
Reviews
Even though the hostel was very empty, people were jammed into one dorm. It maybe efficient for cleaning, but if one person in the dorm snores, everybody has trouble sleeping. When I wanted to check out, the lady manning the reception desk continued with some business conversation in the cafe area. I had to wait about ten minutes to check out, a process that took two minutes. She knew I was there - about two meters from where she sat. I thought it was rude.
Bill,
Fri 27 Nov 2015
I stayed dormitory room.There were 6persons room. 2persons came to hotel and own'bed at 2:00 .am. After that one man puke from his bed about 1hour. It't the worst night for me, so I canceled the next night stay. Worst!!!!!
toshinobu,
Fri 06 Nov 2015
Etes certains que les clés données ne soient formatées que pour la chambre de l'hôte. Aussi l'hôte devrait être accompagné par un membre du personnel quand il ou elle.vient rapatrier ses bagages dans la pièce sécurisée et fermée à clé. Merci d'en prendre note. Ci cela est fait il est très probable que je recommanderai cette auberge.
Christine,
Thu 29 Oct 2015
Chambres avec beaucoup de lits ?
François,
Wed 28 Oct 2015