With more than 4,000 hostels worldwide in fantastic and unique locations. Find your dream experience Hostelling International
Sorry, this content is not currently available in the mobile view. Switch back to desktop view to access this page.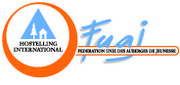 Nice Camélias
Beautiful villa nicoise with a garden and patio in the heart of the city!
10 or more people?
nice-camelias
What travellers think
Travellers that stayed here think this hostel is best for
Sightseeing
Shopping
Relaxing
Culture
---
Reviews
Nourriture disparue dans le frigo commun on pourrai etre averti, le matin de bonne heure le receptionniste fait des abdominos au lieu de s'occuper de vous.
martine,
Sat 03 Oct 2015
This is the second time I've stayed here. Both times it has been extremely difficult to find the street even with GPS. More signage is need in the neighbourhood, as is the case in other towns, notably Rennes. The rooms have too many beds for their size, leaving too little space for baggage.
Glenys Diana,
Wed 30 Sep 2015
Küche besser ausstatten. Ist sehr rudimentär ausgestattet.
Andreas,
Sat 19 Sep 2015
Sehr nette Mitarbeiter, leckeres Frühstück. Hinweise zur Anfahrt mit dem Auto wären gut. Mein GPS wollte mich durch die Fußgängerzone leiten, und die Rue Spitalieri sieht beim ersten Vorbeifahren nicht mit dem Auto befahrbar aus. Zu Fuß findet man die JH besser als mit dem Auto in engen Einbahnstraßen mit ungeduldigen Hintermännen. Wir sind dreimal großräumig um den Block gefahren, bis wir das Straßenschild und dann auch die Nummer 3 entdeckt haben -- kein Wegweiser zeigt dorthin.
Axel,
Fri 18 Sep 2015