With more than 4,000 hostels worldwide in fantastic and unique locations. Find your dream experience Hostelling International
Sorry, this content is not currently available in the mobile view. Switch back to desktop view to access this page.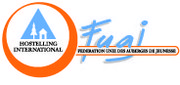 Nice Camélias
Beautiful villa nicoise with a garden and patio in the heart of the city!
10 or more people?
nice-camelias
What travellers think
Travellers that stayed here think this hostel is best for
Sightseeing
Shopping
Relaxing
Culture
---
Reviews
Auberge hyper bien située, courette ombragée en pleine ville, personnel très sympa. A améliorer : les lampes individuelles de chaque lit sont beaucoup trop lumineuses. Allumées souvent en pleine nuit par des couche-tard, elles éclairent et réveillent toute la chambrée. Dans l'approche éducative des auberges de jeunesse, apprendre aux utilisateurs des auberges de jeunesse à respecter le sommeil des autres et à utiliser des lampes de poche comme cela se pratique en montagne où c'est la règle.
Rose-Marie,
Mon 31 Aug 2015
It was a good stay. But the lift was always breaking down which wS bad on my knees which aren't in good shape.
Andrea,
Sun 30 Aug 2015
It was a good stay. I would suggest adding some kind of protein to the breakfast. I was there seven nights and I would have liked if eggs or a meat of some sort was added to breakfast. Others I roomed with talked of the same thing. Otherwise all was good there. Very grateful for a hostel like this. I wasn't happy that the elevator kept breaking down. I have a bad knee and the stairs were tough on the third floor for me. Not good for people with disabilities. Staff tried their best to handle this
Andrea,
Fri 28 Aug 2015
The location was perfect, and had sociable atmosphere.
Siyeon,
Fri 28 Aug 2015