With more than 4,000 hostels worldwide in fantastic and unique locations. Find your dream experience Hostelling International
Sorry, this content is not currently available in the mobile view. Switch back to desktop view to access this page.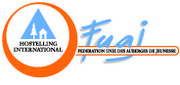 Nantes - La Manu

Housed in a former tobacco factory, the Nantes Hostel offers a great and friendly place to stay between Brittany and the Loire Valley.
10 or more people?
nantes-la-manu
What travellers think
Travellers that stayed here think this hostel is best for
Sightseeing
Culture
Shopping
Socialising
---
Reviews
Auberge de jeunesse un peu vieillotte mais propre.
Mathilde,
Mon 14 Dec 2015
Un bâtiment glauque à souhait, mal entretenu et mal situé. Des sanitaires très inconfortables, et cassés pour certains. Salle de "réunion" avec lumière hors-service, pas utilisable pour travailler. La cuisine fait penser à celle d'un établissement carcéral... Seulement équipée de plaques électriques d'appoint, rouillées! Un règlement intérieur type militaire, et un petit-déjeuner franchement pas terrible. Heureusement que le personnel est accueillant et rattrape le tout!
Camille,
Fri 11 Dec 2015