With more than 4,000 hostels worldwide in fantastic and unique locations. Find your dream experience Hostelling International
Sorry, this content is not currently available in the mobile view. Switch back to desktop view to access this page.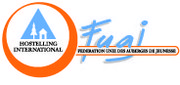 Nantes - La Manu
Housed in a former tobacco factory, the Nantes Hostel offers a great and friendly place to stay between Brittany and the Loire Valley.
10 or more people?
nantes-la-manu
What travellers think
Travellers that stayed here think this hostel is best for
Sightseeing
Culture
Socialising
Shopping
---
Reviews
We were not satisfied. Because there are no 4persons rooms we got a room with 5 beds, and also had to pay for the 5 beds, while we only used 4. And we also had to pay for the family membership card. This made the room, which was very basic if not run-down, very expensive for us. I would expect HI to have a more friendly policy towards families. I hope you can at least refund two nights at € 21,95 for the 5th bed. My bankaccount IBAN number is NL76ASNB0708773362. The BIC of my bank is ASNBNL21.
D,
Thu 30 Jul 2015
Très bon accueil du responsable petit-déjeuner dimanche matin (26/7/15) qui remplaçait la jeune fille habituelle absente ce matin là. Les choses à améliorer: la propreté des toilettes (murs & bouches d'aération) la propreté des douches dans le couloir, des couvertures, des traversins l'arrêt de la radio soulante dès le matin. On vit trop dans le bruit permanent de toutes ces radios dans les magasins, dans les galeries commerciales. Ce serait bien de trouver des lieux de calme.
Hervé,
Thu 30 Jul 2015
I liked the staff very much, the girls were very helpful and friendly! The auberge looks a little bit dark, even during the day, in the central hall and at the stairs. The room was clean, but when I moved a matrass to put the sheets on it, there was a lot of dust behind it. Luckily I could choose another place to sleep in the same room.
Eline,
Fri 17 Jul 2015