With more than 4,000 hostels worldwide in fantastic and unique locations. Find your dream experience Hostelling International
Sorry, this content is not currently available in the mobile view. Switch back to desktop view to access this page.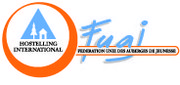 Nantes - La Manu
Housed in a former tobacco factory, the Nantes Hostel offers a great and friendly place to stay between Brittany and the Loire Valley.
10 or more people?
nantes-la-manu
What travellers think
Travellers that stayed here think this hostel is best for
Sightseeing
Culture
Shopping
Socialising
---
Reviews
Directions from train station could have been much simpler. . it is walking distance. Simply turn right from the station and walk along the Stalingrad Ave that is parallel to the rail tracks, until the street the hostel is on. The atmosphere is rather bare, institutional. .. needs color, living plants, music, warmth. Hot water had been off three days when I arrived, then it came on.
Michael,
Sun 23 Aug 2015
j'ai aimé le confort de la chambre , spacieuse , lits , rangement , table , et lavabo dans la chambre ce qui est l'essentiel .et le plus l'ascenseur ! l'auberge est très bien située , proche de la gare , sur la ligne de tram 1 les choses à améliorer sont la propreté des parties communes :sols et murs , ( couloirs escalier , douche, WC le matériel du petit déjeuner ( machine à café .) et l'idéal , serait un service de restauration le soir , et des boissons non alcoolisées bien sur !
joelle,
Sat 22 Aug 2015
The hostel is in a old building in a good position. It's clean but the forniture are aged and not always good working. The breakfast is included it is fine.
Raffaele,
Mon 17 Aug 2015
Very helpful staff, good WiFi downstairs. Breakfast and facilities are basic but it is in a very convenient location (Tram line 1 stop very close) and is clean. Showers are also good and they have wardrobes that can be pad locked. I would recommend La Manu :)
Gemma,
Sun 16 Aug 2015