With more than 4,000 hostels worldwide in fantastic and unique locations. Find your dream experience Hostelling International
Sorry, this content is not currently available in the mobile view. Switch back to desktop view to access this page.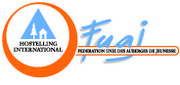 Nantes - La Manu

Housed in a former tobacco factory, the Nantes Hostel offers a great and friendly place to stay between Brittany and the Loire Valley.
10 or more people?
nantes-la-manu
What travellers think
Travellers that stayed here think this hostel is best for
Sightseeing
Culture
Shopping
Socialising
---
Reviews
Très bonne auberge pour dormir et pour l'accueil ce serait bien d'avoir un endroit pour écrire ou lire avec de la lumière, j'ai du m'installer dans la cuisine seule lieu avec une table bien éclairée Il pourrait avoir une bouilloire électrique et des marmites, poêles en meilleur état au petit déjeuner, ce serait bien d'avoir des produits de meilleures qualité pourquoi pas bio équitables, le liquide qualifié de jus est imbuvable
Danielle,
Sun 01 Nov 2015
J'ai été déçu de l'absence de wifi dans les chambres et les difficultés de connexion dans les parties communes. Il n'y pas assez d'activité commune. Il y a un défaut d'entretien (télé en panne depuis plusieurs jours)
guillaume,
Sat 31 Oct 2015
good location, but basically the only hostel option in Nantes. the hostel could use some renovations of basic things, most importantly the isolation and wifi access. windows are so old that they can't be properly closed, which in October is really not welcoming. We were freezing in the room. Wifi is available only in one level out of four, not fun, when you have to work and even in that one level, there are only three electricity sockets where one can plug in...
Tina,
Thu 15 Oct 2015