With more than 4,000 hostels worldwide in fantastic and unique locations. Find your dream experience Hostelling International
Sorry, this content is not currently available in the mobile view. Switch back to desktop view to access this page.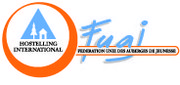 Nantes - La Manu
Housed in a former tobacco factory, the Nantes Hostel offers a great and friendly place to stay between Brittany and the Loire Valley.
nantes-la-manu
What travellers think
Travellers that stayed here think this hostel is best for
Sightseeing
Culture
Socialising
Shopping
---
Reviews
The night front desk employer did not speak English at all. It was very hard to communicate with him. I liked the fact that we could check in at 2am.
Jan Pieter,
Fri 26 Jun 2015
Security was very good. The front door closes after the reception opening hour but night watch will open the door for guests after 22:00. There is a big closet for each person but you need to bring your own padlock. There is an individual kitchen. Check-in job was extremely slow. It will takes 10mins for each guest. It was generally clean but it was so dusty under the bed.
kaori,
Mon 22 Jun 2015
Les puces sont à éradiquer ! Se retrouver avec 50 piqûres de puces après avoir passé une nuit à l'auberge est lamentable !!!!
Anne,
Sun 21 Jun 2015
L'accueil à l'A.J. de Nantes est excellent, et la situation géographique parfaite. Les locaux auraient sans doute besoin d'être "rafraîchis", et pour le petit déjeuner, on n'a besoin ni de gobelets en carton, ni de coupelles en aluminium jetables...
Anne-Marie,
Wed 10 Jun 2015