With more than 4,000 hostels worldwide in fantastic and unique locations. Find your dream experience Hostelling International
Sorry, this content is not currently available in the mobile view. Switch back to desktop view to access this page.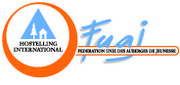 Montpellier
A hostel in the heart of a vibrant student city with festivals throughout the year.
10 or more people?
montpellier
What travellers think
Travellers that stayed here think this hostel is best for
Sightseeing
Culture
Partying
Socialising
---
Reviews
There was no hot shower! This was a major problem. The bathroom could have been much cleaner. The bed was not so clean either.
Jia,
Wed 11 Nov 2015
On est à deux pas des Cévennes qui regorgent de produits de qualité et bon marché si on les achète en grosse quantité, donc approprié pour les collectivités telles que l'auberge. C'est dommage que rien de tel ne soit mis en place par exemple pour le petit déjeuner! Le bâtiment est dans un état général de vétusté avancé, non isolé... De économies sont possibles de ce côté là aussi, toujours pour améliorer la qualité de l'accueil!
Yves,
Wed 11 Nov 2015
Wi-fi doesn't work very well in rooms and there's no hot water at evenings. On the positive side, staff is very friendly and it's great that they have a fridge and a microwave oven for guests.
Adriana Carolina,
Fri 06 Nov 2015