With more than 4,000 hostels worldwide in fantastic and unique locations. Find your dream experience Hostelling International
Sorry, this content is not currently available in the mobile view. Switch back to desktop view to access this page.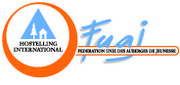 Montpellier
A hostel in the heart of a vibrant student city with festivals throughout the year.
10 or more people?
montpellier
What travellers think
Travellers that stayed here think this hostel is best for
Sightseeing
Culture
Partying
Socialising
---
Reviews
Il n'y avait pas de drap... Et les vis du verrou se dechaussaient, pour la sécurité de nos affaires ce n'est pas terrible.. Une personne parmi les membres du personnels etait ivre et un peu entreprenant, rien de méchant, mais en tant que femme, j'ai besoin de pouvoir m'adresser au personnel sans faire face à cette situation.. Sinon, je fus ravie de mon séjour à Montpellier, et reviendrais volontiers à l'auberge de jeunesse.
Séverine,
Thu 01 Oct 2015
Location was good, but it was hard to sleep due to noise off the street. The showers were poor. It's not good to stand in front of 3 shower cubicles & have to pick which is the least worst. You need to do something about them. A small fridge & microwave in reception is not adequate as a kitchen. This Hostel is obviously not meant for familys.
Paul,
Tue 29 Sep 2015
It doesn't have kitchen, but there is a microwave available. If you want to come back after 2 AM you will need to make a phone call to the recepcionist (international call if your phone doesn't have a french card), I don't think this is very nice since the recepcionist is in the hostel all night (maybe an interphone would be cheaper).
Francisco Miguel,
Tue 29 Sep 2015