With more than 4,000 hostels worldwide in fantastic and unique locations. Find your dream experience Hostelling International
Sorry, this content is not currently available in the mobile view. Switch back to desktop view to access this page.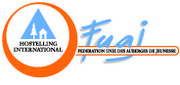 Marseille - Chateau du Bois-Luzy
A castle of second empire style with a park that overlooks the whole city of Marseille - welcome to Bois-Luzy!
10 or more people?
marseille-chateau-du-bois-luzy
What travellers think
Travellers that stayed here think this hostel is best for
Sightseeing
Unique atmosphere
Relaxing
Socialising
---
Reviews
If you are a history buff, Chateau Bois de Luzy is a must and as a bonus the view makes the whole trip worthwhile. the staff were very accommodating and friendly. Challenges: Location is challenging to get to since it is on top of a hill that requires many twists and turns to get too. A point to be aware of as well is that access to the Chateau is limited during the day so don't show up between 1 and 5 pm.
Monty,
Sat 19 Sep 2015
se séjour était pourris accueille merdique ..... la dame de la réception ( l'anglaise) elle était d une vulgarité incroyable c'était a peine si on pouvais lui posez des question. et parlons du patron (nicolas) je n est jamais vu une auberge aussi pitoyable . et parlons de la propreté du petit déjeuner du matin ( la dame du petit déjeuner est dégueulasse jamais un SOURIRE ) a si si on lui parle ne arabe !!!!!! vraiment a déconseiller mes amis
Jean,
Tue 18 Aug 2015
Far away from station have kitchen no air condition my room cannot see the night view
cheung,
Sun 16 Aug 2015