With more than 4,000 hostels worldwide in fantastic and unique locations. Find your dream experience Hostelling International
Sorry, this content is not currently available in the mobile view. Switch back to desktop view to access this page.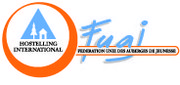 Marseille - Chateau du Bois-Luzy
A castle of second empire style with a park that overlooks the whole city of Marseille - welcome to Bois-Luzy!
10 or more people?
marseille-chateau-du-bois-luzy
What travellers think
Travellers that stayed here think this hostel is best for
Sightseeing
Unique atmosphere
Nature-lovers
Relaxing
---
Reviews
The hostel is a big too far to walk from the Metro station (about 20mins walk uphill) although there is a bus that we can take from a nearby bus stop.
Mengchoo Jeannie,
Mon 20 Jul 2015
la ubicación es excelente, tan sólo a unos pasos del bus, y a unos 20 minutos a pie del meetro. Cuenta con una vista fantástica de la ciudad, y el edificio del albergue en sí es espectacular: 10/10
Francisco,
Tue 07 Jul 2015
Leider kein 24 h Dienst.Mir wurde aber sehr freundlich geholfen.Da ich früh raus mußte durfte ich sogar in der Küche mein Frühstück selbst machen.Fehlende Makierungen bzw.Schilder um die Jugendherberge von der Metro oder Bus aus zu finden.Habe mich mitten in der Nacht 1 Stunde verlaufen.Aber der Diensthabende war einfach umwerfend nett.Noch mals vielen Dank.
holger,
Wed 01 Jul 2015