With more than 4,000 hostels worldwide in fantastic and unique locations. Find your dream experience Hostelling International
Sorry, this content is not currently available in the mobile view. Switch back to desktop view to access this page.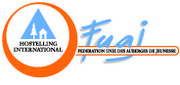 Marseille - Bonneveine
Just 300m from the beach and close to the calanques, this hostel welcomes you into a cosy and friendly atmosphere!
10 or more people?
marseille-bonneveine
What travellers think
Travellers that stayed here think this hostel is best for
Sightseeing
Nature-lovers
Sports & Activities
Relaxing
---
Reviews
L' emplacement del'auberge est prés de la plage et les transports en communs ne sont pas loin.cadre agréable et prix des extras trés abordables.Dommage que l'eau chaude n'a pas été rétablie rapidement !(pas d'eau chaude au rez de chaussée durant 4 jours,ouf il y en avait à l'etage.)Le matelas de la chambre 31-2 était trés uséeet formait un gros creux au milieux! sinon rien à redire! j'y retrounerai.
Isabelle,
Tue 29 Sep 2015
j ai aime l accueil , la proximité de la plage
thabet,
Sun 27 Sep 2015
Great location near the beach. Good breakfast and a good diinner you can buy on site. Staff were great. It is a very busy site so if you want quiet time, it won't happen.
Monty,
Sat 26 Sep 2015
Personnel acceuillant,auberge bien situé pour ceux qui veulent profiter des plages à proximité et des calanques pour les randonnées et amoureux de la nature. Peut etre ferez vous la rencontre avec Bioman,un fantome venu du futur! Rabah
rabah,
Sat 19 Sep 2015
Trop loin du centre ville et mal desservi, manques d'informations sur les transports. Douches et WC vieilles, met de l'eau partout.
Adrien,
Fri 18 Sep 2015