With more than 4,000 hostels worldwide in fantastic and unique locations. Find your dream experience Hostelling International
Sorry, this content is not currently available in the mobile view. Switch back to desktop view to access this page.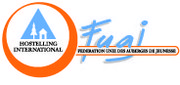 Lyon
Enjoy a spectacular panoramic view of the UNESCO World Heritage city from the hostel's terrace.
10 or more people?
lyon
What travellers think
Travellers that stayed here think this hostel is best for
Sightseeing
Culture
Socialising
Unique atmosphere
---
Reviews
la belle vue panoramique de la ville , l'accueil chaleureux , la disponibilité du personnel , la situation ( proche des commerces et restaurants ) sont mes points positifs .
rosalie,
Sun 30 Aug 2015
La ville est à visiter absolument. L'emplacement de l'auberge est excellent.
HAMROUNI,
Fri 28 Aug 2015
Love the place. Staff is helpful. Location great. Facilities fine.
Miriam,
Thu 27 Aug 2015
Because you need to open the windows to get some fresh air the rooms to the streets are very noisy! Additional washbasins outside the bedrooms and a plate for breakfast would be nice...
Matthias,
Mon 17 Aug 2015