With more than 4,000 hostels worldwide in fantastic and unique locations. Find your dream experience Hostelling International
Sorry, this content is not currently available in the mobile view. Switch back to desktop view to access this page.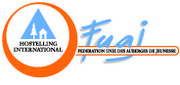 Lyon

Enjoy a spectacular panoramic view of the UNESCO World Heritage city from the hostel's terrace.
10 or more people?
lyon
What travellers think
Travellers that stayed here think this hostel is best for
Sightseeing
Culture
Socialising
Relaxing
---
Reviews
Rooms and facilities are clean. Staff is very nice and helpfull. The six bed dorm where I stayed was quite packed.
Hao,
Sat 23 Jan 2016
I did not see any recycling practised in Lyon or Troyes. Although staff were very good, friendly and helpful, and hostel very comfortable, minimal cooking facilities were a problem for me -although staff were obliging. It seems hostels are not meant for budget travellers so much anymore, but just cheap rooms to stay.
avasbar@gmail.com,
Tue 29 Dec 2015
A J bien située et grande convivialité.
ROUVRAIS,
Wed 16 Dec 2015
bravo à l'implication et au professionalisme de alexandra tout particulierement
eric,
Mon 14 Dec 2015