With more than 4,000 hostels worldwide in fantastic and unique locations. Find your dream experience Hostelling International
Sorry, this content is not currently available in the mobile view. Switch back to desktop view to access this page.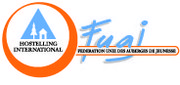 Lyon
Enjoy a spectacular panoramic view of the UNESCO World Heritage city from the hostel's terrace.
10 or more people?
lyon
What travellers think
Travellers that stayed here think this hostel is best for
Sightseeing
Culture
Socialising
Unique atmosphere
---
Reviews
The place is nice and the staff are very friendly. In fact, I get to meet fellow travellers over there. The beds are very clean too. However, there is a problem with the shower, perhaps on the 1st floor. There was no way to change to cold shower, the shower was burning hot!
Shirley,
Fri 03 Jul 2015
I really enjoyed my stay in the hostel. Clean room and bathrooms and comfortable bed. Although the staff was not always very welcoming (no "hello" or "goodbye" when you entered or left the hostel), they were very helpful. Basic but good breakfast. In the evening the music was quite loud.
Leen,
Thu 02 Jul 2015
Auberge avec très belle vue sur la ville et bien calme! A propos des douches, pas de mitigeur! L'eau est trop bouillante. Autrement tout est nickel !!!
philippe,
Wed 01 Jul 2015
atemberaubende aussicht !!! aufgeschlossenes personal das bereit ist wünsche zu erfüllen
Birgit,
Tue 30 Jun 2015
Wonderful room with a view. Very good breakfast. The self-catering kitchen is too small to be really practical, but thankfully on this occasion I wasn't relying on it to prepare a meal.
DAVID,
Wed 24 Jun 2015