With more than 4,000 hostels worldwide in fantastic and unique locations. Find your dream experience Hostelling International
Sorry, this content is not currently available in the mobile view. Switch back to desktop view to access this page.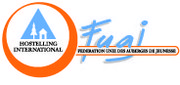 Lorient
Right on the edge of the Pond de Ter, the hostel is just 4km away from the bustling town of Lorient and nearby beautiful sandy beaches.
10 or more people?
lorient
What travellers think
Travellers that stayed here think this hostel is best for
Nature-lovers
Relaxing
Sports & Activities
Sightseeing
---
Reviews
The self catering kitchen was not very clean and some important items were missing (the knives did not cut and there was no pasta strainer); the 'free food' corner was badly organised and looked very unhygienic.
Alessandra,
Wed 29 Jul 2015
A bit far from the city center (bus required), but the area is nice to chill out on a hot day.
Frédéric,
Mon 11 May 2015
nice hostel in pleasant location
PAUL,
Sun 19 Apr 2015