With more than 4,000 hostels worldwide in fantastic and unique locations. Find your dream experience Hostelling International
Sorry, this content is not currently available in the mobile view. Switch back to desktop view to access this page.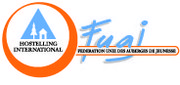 Lille
Youth Hostel Lille is located in the heart of the historic capital of Flanders, a unique setting.
10 or more people?
lille
What travellers think
Travellers that stayed here think this hostel is best for
Sightseeing
Culture
Shopping
Socialising
---
Reviews
My mother and I really enjoyed our stay here. Our room was extremely clean and comfortable and even had an en-suite shower which was a wonderful perk. The staff was extremely helpful and willing to answer our questions and the complimentary breakfast was delicious. The hostel is also quite close to both train stations, which made getting to it very easy. We had an excellent experience here and would definitely recommend this hostel and stay there again!
Margaret,
Sat 25 Jul 2015
More rules posted on the walls than many other hostels. This made it feel a bit like school.
Rebecca,
Fri 24 Jul 2015
Good location, easy to find
Justin,
Sat 18 Jul 2015