With more than 4,000 hostels worldwide in fantastic and unique locations. Find your dream experience Hostelling International
Sorry, this content is not currently available in the mobile view. Switch back to desktop view to access this page.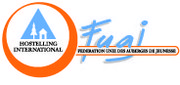 Le Mont-Dore
the youth hostel of Le Mont Dore is at the foot of the Le Sancy, the highest summit of the massif central. To 4 km of Le Mont Dore , spa town.
10 or more people?
le-mont-dore
What travellers think
Travellers that stayed here think this hostel is best for
Nature-lovers
Sports & Activities
Eco-tourism
Relaxing
---
Reviews
Auberge sympathique, simple, avec confort acceptable. Personnel très agréable, chambres "normales" pour une auberge. Propreté correcte. Très bien situé pour faire le mont Sancy et plein de randonnées/ascensions possibles autour !
Yacine,
Tue 26 Aug 2014
Zwei aufsässige Hunde der Herbergenbetreiber waren störend, ebenso die verkotete Wiese. Der Zugang zur Küche führt zeitweise (wenn die Bar geschlossen ist) auf verschlungenen Wegen durch das Fernsehzimmer und die Veranda, was mühsam ist. Warme Milch zum Frühstück gab es nur aus Milchpulver. Auf der Website fehlt der Hinweis, dass es Frühstück gibt und dass dieses im Preis inbegriffen ist. Insgesamt wirkt die Jugendherberge ungemütlich.
Alexander,
Tue 12 Aug 2014
Die Wasserflaschen wurden nach den Mahlzeiten nur mit kaltem Wasser von den Gästen ausgespült und nicht abgetropft mit der Öffnung nach oben auf das Regal gestellt. Mir war dies ein wenig unhygienisch.
Hans,
Fri 08 Aug 2014
It was a nice hostel also for kids they liked the "tablesoccer" (or what is the word for it in english) game at the hostel.
Nancy,
Thu 07 Aug 2014
Great place for hiking and close to services if you have wheels
Bill,
Tue 29 Jul 2014