With more than 4,000 hostels worldwide in fantastic and unique locations. Find your dream experience Hostelling International
Sorry, this content is not currently available in the mobile view. Switch back to desktop view to access this page.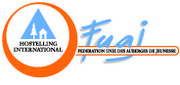 La Rochelle

The youth hostel in La Rochelle invites you into a unique setting at the foot of the largest yachting harbor in Europe.
10 or more people?
la-rochelle
What travellers think
Travellers that stayed here think this hostel is best for
Sightseeing
Relaxing
Sports & Activities
Nature-lovers
---
Reviews
Auberge très appréciable (même en basse saison) tous comme l'an passé. La temporisation de l'eau de la douche est un peu courte à mon sens mais sinon RAS. Un grand merci à toute l'équipe
josua,
Tue 19 Jan 2016
+L'emplacement est bon, à proximité à pied du centre (quoique pour les femmes le trajet jusqu'au port n'est pas pas des plus sécurisant le soir. C'est un homme qui en fait la remarque) - Les jobbeurs filles et garçons affectés au petit dèj pourraient s'occuper un peu + des séjournants (s'assurer qu'il ne manque rien) et se draguer seulement en dehors de leur horaires. :-)
Gauthier,
Wed 23 Dec 2015
L'auberge est pas mal situe, on voit l'auberge de loin le soir. Le personnel est gentil. Seules les 2 personnes qui ont partage la chambre avec moi n'ont pas un profil typique des passagers de l'auberge de jeunesse et y ont reste pendant relativement longtemps, ce qui m'a fait inquiete le debut. Et le fait que je ne peux pas rester une deuxieme nuit sans la carte de fidelite m'a oblige de changer le planning du sejour.
SHIYU,
Thu 17 Dec 2015
Frühstück war sehr schlecht. Teilweise fehlte alles (Brot, Butter, Getränke). Es waren keine Mitarbeiter da, die sich darum gekümmert haben. Es wurde nichts nachgefüllt. Der Frühstücksraum war voll und viele Menschen haben auf Frühstück gewartet.
Rene,
Sun 06 Dec 2015