With more than 4,000 hostels worldwide in fantastic and unique locations. Find your dream experience Hostelling International
Sorry, this content is not currently available in the mobile view. Switch back to desktop view to access this page.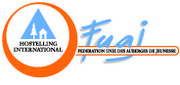 La Palud-sur-Verdon
The auberge des Gorges du Verdon, the quiet close to La palud-sur-Verdon. It welcomes families, individuals and groups.
10 or more people?
la-palud-sur-verdon
What travellers think
Travellers that stayed here think this hostel is best for
Nature-lovers
Sports & Activities
Sightseeing
Relaxing
---
Reviews
Tout était très bien, jusqu'aux conseils de visites lors de l'accueil le premier jour.
Cindy,
Tue 01 Sep 2015
le petit déjeuner serait à améliorer et juste le nettoyage de la grande salle sinon tout était parfait
SONIA,
Sat 22 Aug 2015
I had a very pleasant stay. It's a very small town which was to be expected, so not much to do there but after hiking Verdon Gorge who has the energy anyways? haha David was extremely nice and helpful, really no complaints at all.
Franco,
Tue 18 Aug 2015
Excellente Auberge de Jeunesse ! David offre vraiment de bons conseils pour passer un bon séjour à La Palud ! Il y a au moins une courte randonnée jusqu'à un point d'observation qui se fait directement de l'auberge et il y a plusieurs très belles randonnées à environ 20 min d'auto de l'auberge et le Lac Sainte Croix est à environ 30 min. (tout se fait très bien sur le pouce pour ceux qui n'ont pas d'auto, il y a aussi des autobus mais assez dispendieux
Samuel,
Sun 16 Aug 2015