With more than 4,000 hostels worldwide in fantastic and unique locations. Find your dream experience Hostelling International
Sorry, this content is not currently available in the mobile view. Switch back to desktop view to access this page.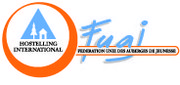 Grenoble - Echirolles
Architecture high-tech in an island of greenery. The campaign in the city: a cocktail party succeeded who will seduce you!
10 or more people?
grenoble-echirolles
What travellers think
Travellers that stayed here think this hostel is best for
Socialising
Sports & Activities
Nature-lovers
Sightseeing
---
Reviews
My mother and I had quite a bit of trouble finding the hostel; if you have any luggage, taking a taxi is your best option for getting there. Once there, the hostel seemed rather deserted, and this made both of us uncomfortable. We were offered a free breakfast though, which was nice. Over all, our stay at the Grenoble was only so-so, and I would try to find a different hostel before staying here again. The area it's in is beautiful though, so I would certainly recommend visiting the city anyway.
Margaret,
Sun 19 Jul 2015
Very friendly, well run hostel thank-you.
Jonathan,
Mon 22 Jun 2015