With more than 4,000 hostels worldwide in fantastic and unique locations. Find your dream experience Hostelling International
Sorry, this content is not currently available in the mobile view. Switch back to desktop view to access this page.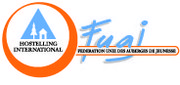 Fréjus/St-Raphaël
Located between Cannes and Saint-Tropez , our Hostel welcomes you in a Provencal country house in the heart of a pine forest of 10 hectares.
10 or more people?
frejus-st-raphael
What travellers think
Travellers that stayed here think this hostel is best for
Nature-lovers
Relaxing
Sports & Activities
Unique atmosphere
---
Reviews
The hostel is really nice! The rooms are big and clean. Also breakfast is lovely! In the evening and in the morning you can sit outside. The only negative thing is that when you are coming to the hostel in the evening there is not enough light on the road and that is scary.
Melanie,
Wed 26 Aug 2015
J'étais un peu ennuyé de devoir laisser mon vélo bien en vue devant la maison même si c'est une maison isolée dans un grand terrain. L'auberge est à 2 km du centre ville, ce qui est un peu loin. Par contre, le terrain ombragé est superbe et l'auberge est parfaitement tenue.
Patrick,
Tue 30 Jun 2015
L'auberge de jeunesse à Fréjus est très bien placée dans un grand parc juste à côté de la centre ville. Fréjus est une très jolie ville avec des acquaducs romains et aussi un amphithéâtre romain. Les personnels étaient vraiment sympathiques et ils m'ont donné de bon conseil pour ma visite. J'ai pu avoir une chambre à moi, parce qu'il n'y avait pas grand monde le jour où j'étais là (un dimanche soir en avril). J'ai fait tous à pied, même rentrer à la gare à saint Raphaël (3,5km).
Hannah,
Fri 24 Apr 2015
In my favourite location. Views north are super and the camping area in the pine wood to the front idyllic. Red squirrels not as evident as previously. Kitchen is appalling. The four-bed rooms have toilet & shower en suite. Breakfasts ok Great local bus service . Tickets at 1.10 Euros can be used for an hour. Buy ten journey ticket at the price of nine. Bus from Hostel to St Raphael train station at 9 am and in reverse at 7 pm. But the walk into Frejus is pleasant. Two supermarkets nearby.
Alfred,
Sat 04 Oct 2014