With more than 4,000 hostels worldwide in fantastic and unique locations. Find your dream experience Hostelling International
Sorry, this content is not currently available in the mobile view. Switch back to desktop view to access this page.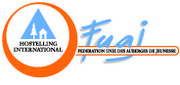 Fréjus/St-Raphaël
Located between Cannes and Saint-Tropez , our Hostel welcomes you in a Provencal country house in the heart of a pine forest of 10 hectares.
10 or more people?
frejus-st-raphael
What travellers think
Travellers that stayed here think this hostel is best for
Nature-lovers
Relaxing
Socialising
Sports & Activities
---
Reviews
Das Haus ist wunderschön. Warum man jedoch von 11 - 17 Uhr nicht vor Ort sein darf? Zumindest habe ich das so verstanden. Das Frühstück fiel etwas spärlich aus. Toll fand ich aber, dass ich 24h einchecken und draußen im Garten frühstücken konnte. Alles lag nachts für mich bereit und ich durfte ein Zimmer einzeln beziehen, sodass ich niemanden geweckt habe. Insgesamt eine schöne Hostelerfahrung!
Paul,
Thu 17 Sep 2015
Very nice place set behind a park. The staff is VERY nice and very willing to help. Accommodations are simple, other guests were also very nice. I definitely recommend it.
Kathleen,
Sun 13 Sep 2015
Lara,
Fri 28 Aug 2015
The hostel is really nice! The rooms are big and clean. Also breakfast is lovely! In the evening and in the morning you can sit outside. The only negative thing is that when you are coming to the hostel in the evening there is not enough light on the road and that is scary.
Melanie,
Wed 26 Aug 2015
J'étais un peu ennuyé de devoir laisser mon vélo bien en vue devant la maison même si c'est une maison isolée dans un grand terrain. L'auberge est à 2 km du centre ville, ce qui est un peu loin. Par contre, le terrain ombragé est superbe et l'auberge est parfaitement tenue.
Patrick,
Tue 30 Jun 2015