With more than 4,000 hostels worldwide in fantastic and unique locations. Find your dream experience Hostelling International
Sorry, this content is not currently available in the mobile view. Switch back to desktop view to access this page.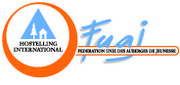 Cepoy Montargis
Enjoy life in an authentic castle building from the 17th century on the edge of the forest of Montargis along the canal.
10 or more people?
cepoy-montargis
What travellers think
Travellers that stayed here think this hostel is best for
Nature-lovers
Sports & Activities
---
Reviews
Ma réservation électronique n'était pas connue de la responsable (ou sa remplaçante) quand je suis arrivé. Mais cette dernière a été très arrangeante et efficace.
Eric,
Thu 07 Nov 2013
Nice garden with lots of space and play opportunities for children. Dogs are allowed. Very friendly service.
Wanda,
Tue 27 Aug 2013
lease equip the self catering kitchen a little better to make it easier for visitors to prepare meals. Otherwise the hostel was great.
marina,
Fri 23 Aug 2013
Die Betten und auch die Kissen waren mit Spannbetttüchern schon überzogen, als wir ins Zimmer kamen - allerdings waren die Bezüge nicht ganz sauber...
Stephan,
Thu 15 Aug 2013
Very disappointed with warden and very poor service. Warden couldn't speak English - tried to complain about the dangerous behaviour of a motorbike rider, believed to be a guest or family member of warden, when we arrived to check in. Warden dismissed our complaint was more interested in spending time looking after what we believe were family members than our needs. The kitchen was appalling - no matches to light the gas hob,no spoons & no cups. We had no cups for breakfast and on the 2nd day had no tea or fruit juice. The breakfast was poor value. We stayed at 7 hostels on our holiday and this was the worst by far. Other french hostels were good but Cepoy was appalling overall. My family of wife & 2 kids were very disappointed. The warden could not be found to speak to and without any english would be a waste of time in any case. We are very angry about our stay at this hostel on what was otherwise a brilliant holiday in Belgium, Germany, Austria, Switzerland and France.
Darren,
Sun 11 Aug 2013