With more than 4,000 hostels worldwide in fantastic and unique locations. Find your dream experience Hostelling International
Sorry, this content is not currently available in the mobile view. Switch back to desktop view to access this page.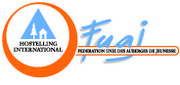 Cepoy Montargis
Enjoy life in an authentic castle building from the 17th century on the edge of the forest of Montargis along the canal.
10 or more people?
Prices are members' prices