With more than 4,000 hostels worldwide in fantastic and unique locations. Find your dream experience Hostelling International
Sorry, this content is not currently available in the mobile view. Switch back to desktop view to access this page.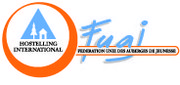 Carcassonne
The youth hostel is located in the heart of the medieval UNESCO World Heritage City.
carcassonne
What travellers think
Travellers that stayed here think this hostel is best for
Sightseeing
Culture
Unique atmosphere
Socialising
---
Reviews
Great location in the heart of the old city walls. Rooms were comfortable but we were very hot (but it was 38 degrees during the
Angela,
Thu 02 Jul 2015
Amazing location with the bonus of free parking which had been explained in an e-mail from staff. Banging doors did create an unwelcome intrusion to the otherwise peaceful atmosphere. Door shutters need adjusting, the window in our room in dire need of exterior paint and clean, shower hose requires replacement but still works. Generally public areas well maintained and welcoming.Breakfast basic (particularly compared to our recent experience in Danhostel Copenhagen!)
Terry,
Thu 18 Jun 2015
We arrived in Carcassone after a car trip of 10 hours, destroyed, but the guy at the reception greeted us with a big smile and we forgot how tired we were. Michel made our stay really enjoyable! The hostel is really central, by the parking (FREE!!!) is just 5 minutes walking. Is really clean and the room we had were pretty big. Buffet breakfast with everything you expect from a breakfast. I will absolutely recommend this hostel to everyone is planning to stay in Carcassone!
Stefania,
Thu 18 Jun 2015