With more than 4,000 hostels worldwide in fantastic and unique locations. Find your dream experience Hostelling International
Sorry, this content is not currently available in the mobile view. Switch back to desktop view to access this page.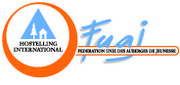 Carcassonne

The youth hostel is located in the heart of the medieval UNESCO World Heritage City.
10 or more people?
carcassonne
What travellers think
Travellers that stayed here think this hostel is best for
Sightseeing
Culture
Unique atmosphere
Relaxing
---
Reviews
Wonderful stay, can't wait to return. Very kind and friendly staff, great conversation.
Amanda,
Wed 10 Feb 2016
Good free breakfast included!
Jason,
Thu 12 Nov 2015
Carcassonne,
Sat 14 Nov 2015
It's a wonderful place with really amazing people. Very clean, they are always ready to help with a big smile. Located in the best place, Citte Medievale.
Ana,
Thu 12 Nov 2015
Carcassonne,
Sat 14 Nov 2015
Les vibrations du frigo senties dans la chambre 10
Catherine,
Sun 01 Nov 2015
Carcassonne,
Tue 03 Nov 2015
Le petit déjeuner était super et le personnel très gentil.
Lorena,
Fri 30 Oct 2015
Carcassonne,
Sun 01 Nov 2015