With more than 4,000 hostels worldwide in fantastic and unique locations. Find your dream experience Hostelling International
Sorry, this content is not currently available in the mobile view. Switch back to desktop view to access this page.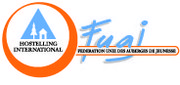 Cancale - Mont St Michel
Situated in a cove by the sea, the Cancale Youth Hostel is a great place for nature lovers ...!
10 or more people?
cancale-mont-st-michel
What travellers think
Travellers that stayed here think this hostel is best for
Nature-lovers
Sports & Activities
Relaxing
Unique atmosphere
---
Reviews
Wonderful location along GR34, quiet in the evenings and mornings, reasonable distance from public transport (~30 mins walk to bus stop Line 5 during low season, but in summer Line 8 stop just a stone's throw from hostel). Hostel extremely clean, bed comfortable (if you like a firm mattress). I would prefer hand wash basin in/next to toilet cubicles, as now you have to go back to room to wash your hands. Communal kitchen OK in late May, but might get a bit cramped during the summer.
Paola,
Tue 02 Jun 2015
les matelas sont très durs, et posés sur une simple planche. Le site est magnifique.
claudine,
Thu 16 Apr 2015
L'auberge est remarquablement située en bord de mer et du GR. Et le personnel est très accueillant et disponible .Nous avons passé un excellent séjour.
Monique,
Fri 06 Mar 2015