With more than 4,000 hostels worldwide in fantastic and unique locations. Find your dream experience Hostelling International
Sorry, this content is not currently available in the mobile view. Switch back to desktop view to access this page.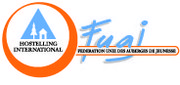 Cadouin
In Périgord Noir, country cuisine and authentic landscapes, between Sarlat and Bergerac, take a journey in time.
10 or more people?
cadouin
What travellers think
Travellers that stayed here think this hostel is best for
Relaxing
Eco-tourism
Sightseeing
Culture
---
Reviews
A very quiet place in the middle of nowhere. But nice to relax and very helpful and friendly staff
Andreas,
Sat 04 Jul 2015
Cadouin,
Mon 06 Jul 2015
Les draps étaient troués ... Pas digne d'une auberge de jeunesse abritée dans un site classé au Patrimoine Mondial de l'UNESCO !
ALAIN,
Thu 25 Jun 2015
Cadouin,
Sat 27 Jun 2015
Beautiful hostel in part of Cadouin abbey; great breakfast and atmosphere. Do allow adequate time to drive there -- it is quite remote.
mbbyoung@sbcglobal.net,
Sat 01 Nov 2014
Cadouin,
Mon 03 Nov 2014
We stayed in a beautiful little room for 2 people , overlooking the cloisters. Hostel twenty minutes drive to River Dordogne for canoeing. Lots of gorgeous walks,
JK,
Mon 08 Sep 2014
Cadouin,
Wed 10 Sep 2014
Site de Cadouin exceptionnel. Amabilité du personnel. Chambres pratiques et confortables. Seul hic, le cuisinier était absent 2 soirs de suite (donc pas de repas le soir).
Annie,
Mon 04 Aug 2014
Cadouin,
Wed 06 Aug 2014