With more than 4,000 hostels worldwide in fantastic and unique locations. Find your dream experience Hostelling International
Sorry, this content is not currently available in the mobile view. Switch back to desktop view to access this page.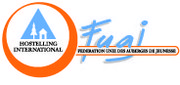 Bourges
A great location! At the heart of the city, 5 minutes from the Cathedral, the historical path Nights Lights...
10 or more people?
bourges
What travellers think
Travellers that stayed here think this hostel is best for
Sightseeing
Culture
Nature-lovers
Relaxing
---
Reviews
Hi; needs some new ideas, more fancy breakfast;posters in dininghall are fine, but spirit is missing... sorry , i do not speak and understand french; why is this feedback not in english???? so i can not finish this feedback!
ute,
Sat 01 Aug 2015
The main door was closed on arrival. There was no -one at the desk to welcome me initially. In the morning I was alone at breakfast.
JBettany,
Sun 31 May 2015
Pas de wifi propre à l'auberge, il faut se connecter à la ville et ça capte mal. Manque un espace commun convivial pour lire ou travailler (des canapés, des petites tables), au lieu de ça une grande salle peu agréable avec des rangées de tables. Une seule prise dans notre dortoir de 6 personnes… Des plaques qui chauffent mal dans la cuisine et des ampoules à changer dans les WC, qui ne l'ont pas été en 5 jours…
anne,
Tue 21 Oct 2014
hi, was a fine experience. Workers from this hostel was perfect.
frederick,
Wed 10 Sep 2014
open after 18.00 is a pity. closed sunday.
ank,
Mon 11 Aug 2014