With more than 4,000 hostels worldwide in fantastic and unique locations. Find your dream experience Hostelling International
Sorry, this content is not currently available in the mobile view. Switch back to desktop view to access this page.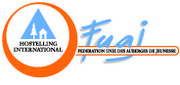 Boulogne-sur-Mer

With access to London, Brussels or Paris, auberge de jeunesse de Boulogne-sur-Mer welcomes you, in transit or holiday, all year round.
10 or more people?
boulogne-sur-mer
What travellers think
Travellers that stayed here think this hostel is best for
Sightseeing
Relaxing
Culture
Nature-lovers
---
Reviews
Great location, nice staff, fair breakfast, warm rooms. fair price.
hitchcock,
Mon 09 Nov 2015
It was wonderful. I was fortunate to have a room to myself. And it's great to be able to open a window for fresh air. Can't think if any improvements - a plug for the bath perhaps?
Frances,
Tue 27 Oct 2015
Bathroom grubby. No hot water. No toilet paper. No storage space in the bedroom - had to put all my stuff on the floor or on the bed. No reading light.
Angela,
Wed 07 Oct 2015
Karen,
Thu 01 Oct 2015
location couldn't be better!! The staff was very friendly. i had a great time. there was no soap at the toilet, but i had mine, so that was ok.
Giselda,
Mon 28 Sep 2015