With more than 4,000 hostels worldwide in fantastic and unique locations. Find your dream experience Hostelling International
Sorry, this content is not currently available in the mobile view. Switch back to desktop view to access this page.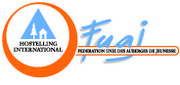 Biarritz
Modern, user-friendly and suitable for the disabled.
10 or more people?
biarritz
What travellers think
Travellers that stayed here think this hostel is best for
Sports & Activities
Nature-lovers
Relaxing
Sightseeing
---
Reviews
False advertising, and downright rudeness. It started off with my surprise at the standards, We then offered a private room, which we had Not looked for, But, having been misled to believe, yes, when you return this evening, and then, this all changed. I am now asking for a refund of our fees. Yours sincerely Martina Halnon
martina,
Tue 22 Sep 2015
Biarritz Biarritz,
Thu 24 Sep 2015
The hostel is clean, the staff is friendly and helps you if you have a problem. The location is not perfect because it is far away from the town and the last bus to the town leaves at 8.30 pm but the train station is very close to the hostel. One negative point is that the WLAN doesn't work in the rooms.
Damaris,
Mon 07 Sep 2015
Biarritz Biarritz,
Wed 09 Sep 2015
Nice hostel, good location, pity the kitchen is so small that it isn't open all the time. Still, if you don't need to cook anything that's no drama as there are plenty of tables/chairs etc where you can 'picnic'. Dorms are fine but the showers could do with an update. Otherwise, all good - definitely good value for money.
Francesca,
Sun 06 Sep 2015
Biarritz Biarritz,
Tue 08 Sep 2015
personnel très aimable, dommage que la cuisine n'ait pas été disponible
lucile,
Tue 01 Sep 2015
Biarritz Biarritz,
Thu 03 Sep 2015