With more than 4,000 hostels worldwide in fantastic and unique locations. Find your dream experience Hostelling International
Sorry, this content is not currently available in the mobile view. Switch back to desktop view to access this page.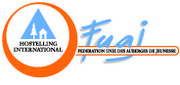 Beaugency sur Loire
Located in a former school, Beaugency-sur-Loire will be your starting point for the discovery of the chateaux of the Loire.
10 or more people?
beaugency-sur-loire
What travellers think
Travellers that stayed here think this hostel is best for
Socialising
Sightseeing
Relaxing
Unique atmosphere
---
Reviews
sebastien,
Thu 10 Sep 2015
Diese Juhe hat richtig Flair! Die Zimmer sind in mehreren Gebäuden um den Hof herum untergebracht. Abgesehen von den vielen Sitzgelegenheiten im Freien gab es auch einen schönen Aufenthaltsraum mit Sofa und Sessel. Dusche und WC waren im Zimmer und es war sehr sauber. Die Lage in der Nähe der Loire-Schlösser ist prima, aber zur nächsten Bahnstation liegt sie wohl nicht ganz ideal. Das Frühstück besteht aus Baguette und Marmelade und Kaffee/Tee. Für den Preis absolut o.k.
Susanne,
Tue 18 Aug 2015
I liked the tranquility but it meant a 45 minute walk into town. I'd like to see lockers in the rooms. The gas was turned off in the kitchen and only a few people knew how and where to turn it on. The goat cheese farm behind the hostel sells great cheese at 3 euros each after 9am
Carolyn,
Thu 06 Aug 2015
Very clean and comfortable with good facilities. Staff very helpful and friendly. Great for cyclists but about a mile from town centre could be a problem on foot. Enjoyed my stay - again.
Frank,
Fri 12 Jun 2015