With more than 4,000 hostels worldwide in fantastic and unique locations. Find your dream experience Hostelling International
Sorry, this content is not currently available in the mobile view. Switch back to desktop view to access this page.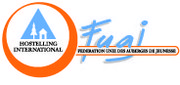 Beaugency sur Loire
Located in a former school, Beaugency-sur-Loire will be your starting point for the discovery of the chateaux of the Loire.
10 or more people?
beaugency-sur-loire
What travellers think
Travellers that stayed here think this hostel is best for
Socialising
Eco-tourism
Nature-lovers
Relaxing
---
Reviews
Very clean and comfortable with good facilities. Staff very helpful and friendly. Great for cyclists but about a mile from town centre could be a problem on foot. Enjoyed my stay - again.
Frank,
Fri 12 Jun 2015
It's an ok hostel, but its in the middle of nowhere, they had awesome lounge areas and a charming courtyard, but I had to hike 2 miles to get dinner everyday. They also don't provide any practical way to get around. You can rent a bike which will set you back 5 euros a day, but that defeats the purpose of this hostel which is to be cheap. The information was also pretty weak and since I couldn't connect to the web with my laptop I had no way of finding the cool stuff around except walking.
Jake,
Fri 01 May 2015
the hostel is 2,5 km to the railway station and there are no buses to reach it, so we'll recommend it for car owners only. staff was ok, but seems a bit annoyed by our requests. there is no WiFi and no computers available. kitchen is big but on our arrival there was no salt and oil. dorms were ok. the bathroom, instead, was not very nice.. the price was a bit too much for what the hostel offers. breakfast is good :)
cecilia,
Mon 25 Aug 2014
Continuez ! Inutile de changer la déco à l'intérieur, c'est très bien ainsi.
Eric,
Thu 07 Nov 2013
Je trouve juste regrettable que cette auberge ferme fin octobre pour ne ré-ouvrir qu'au printemps!elle fait besoin, il y avait du monde lorsque j'y étais!
Christophe,
Tue 15 Oct 2013