With more than 4,000 hostels worldwide in fantastic and unique locations. Find your dream experience Hostelling International
Sorry, this content is not currently available in the mobile view. Switch back to desktop view to access this page.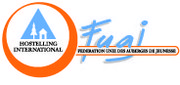 Arles
Located just 1km from the centre of the Arles Provence, the hostel provides a range of activities and features, including a games room and cafe.
arles
What travellers think
Travellers that stayed here think this hostel is best for
Culture
Sightseeing
Socialising
Unique atmosphere
---
Reviews
Die sanitären Anlagen sollten modernisiert werden. Moskitonetze erneuern, Aussenbereich attraktiver gestalten Habe dort sehr nette Menschen getroffen
Frank,
Tue 16 Jun 2015
Bonjour, la chose qui m'a particulièrement embêté est l'attente de 10min pour avoir de l'eau chaude pour la douche, sinon tout le reste est ok. Merci.
György,
Tue 26 May 2015
Every time I took a shower, the water was cold.
Ger,
Sun 28 Sep 2014