With more than 4,000 hostels worldwide in fantastic and unique locations. Find your dream experience Hostelling International
Sorry, this content is not currently available in the mobile view. Switch back to desktop view to access this page.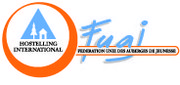 Arles
Located just 1km from the centre of the Arles Provence, the hostel provides a range of activities and features, including a games room and cafe.
10 or more people?
arles
What travellers think
Travellers that stayed here think this hostel is best for
Culture
Sightseeing
Socialising
Relaxing
---
Reviews
DONG,
Tue 28 Jul 2015
ich würd dort wieder hingehen. frühstück war für mich leicht ausreichend. zu fuß braucht man ca. 5 min ins zentrum. es gibt grillabende (hab selbst aber nicht teilgenommen). hatte auch warmes wasser beim duschen...
Martina,
Thu 23 Jul 2015
I stayed at the hostel for a couple of nights and it was really great. The staff was very friendly and they made us feel part of a big family. I would highly recommend this place to anyone.
Antonios,
Thu 23 Jul 2015
Stuff is great and help a lot, but wifi need to work on. Walk from train station about 30min, need your gps to guide.walk to downtown about
xiaoling,
Mon 20 Jul 2015