With more than 4,000 hostels worldwide in fantastic and unique locations. Find your dream experience Hostelling International
Sorry, this content is not currently available in the mobile view. Switch back to desktop view to access this page.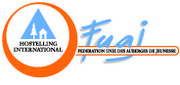 Arles
Located just 1km from the centre of the Arles Provence, the hostel provides a range of activities and features, including a games room and cafe.
10 or more people?
arles
What travellers think
Travellers that stayed here think this hostel is best for
Sightseeing
Culture
Relaxing
Socialising
---
Reviews
Hostel is in dire need of maintenance.. To have a shower, I ran the water for more than five minutes before it came out warm. There is no hand basin in the upstairs toilets. and moce the to something smaller andmore economiical to run? No washing facilities. Clean sheets were available, but what about pillow cases? There was no instruction to keep packs of beds. Insufficient horizontal surfaces for guests to keep their gear, except on the foor, ie you only have half a policy on preventing bed bugs.
Bernice,
Tue 08 Sep 2015
There is no one there from ten to five so no place to leave luggage when you arrive. I came at ten thirty and had to drag my things. There was no place to go in the morning when I woke early. I do not recommend this one at all. It was not clean.
Miriam,
Thu 27 Aug 2015
Better hot water would be nice, and soap and hand towels in the bathrooms. Good kitchen facilities, but could use some explanatory information about how to use the stove and where to find things. Staff were very helpful.
Emma,
Wed 26 Aug 2015
J'aime la convivialité que l'on trouve dans cette auberge, insufflé par l'équipe qui gère le lieu.On y retrouve aussi des valeurs que j'ai aimé au tout début de mes séjours dans les A.J ( et c'était il y a longtemps.....j'ai 53 ans !) et qu'on ne retrouve pas toujours aujourd'hui ( partage, respect des autres, pas de bruit la nuit ). La nouvelle équipe essaye d'apporter du confort qui n'existait pas avant, primordial : que l'on puisse se faire à manger, A continuer et améliorer.
Hélène,
Tue 25 Aug 2015