With more than 4,000 hostels worldwide in fantastic and unique locations. Find your dream experience Hostelling International
Sorry, this content is not currently available in the mobile view. Switch back to desktop view to access this page.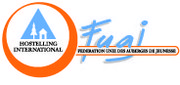 Annecy
A place of exceptional beauty. Enjoy the terrace with views of the lake and mountains.
10 or more people?
annecy
What travellers think
Travellers that stayed here think this hostel is best for
Sightseeing
Sports & Activities
Nature-lovers
Relaxing
---
Reviews
As with the last few French hostels we have stayed in the breakfast is a disappointment. Once breakfast has been set up then it seems that no one checks to see whether anything needs to be replenished.
Matthew,
Fri 24 Jul 2015
Nice hostel with a good breakfast and good view to the lake. The garden/balcony are very nice! There's a shortcut, so, it just take a few minutes to go to the lake and center. The rooms have shower; is nice, but is really noisy if someone goes to the shower when you're sleeping!
Marta,
Fri 24 Jul 2015
une formule sans petit déjeuner serait bien car je le paye alors que je n'en ai pas l'utilité
Yvan,
Thu 23 Jul 2015
Positif: terrasse avec vue sur le lac, équipement de l'auberge, petit déjeuner avec grands choix de boissons chaudes et bon pain, possibilité de dîner, ... Négatif: douches qui devraient être refaites, promuiscite dans les dortoirs à 4.
isabelle,
Wed 22 Jul 2015
Im Gegensatz zu meinem ersten Aufenthalt in dieser Jugi vor 6 Jahren war das Familienzimmer nicht sauber, auf dem gleichen Stock war eine des Nachts lärmende Velofahrergruppe aus Deutschland einquartiert. Leider war von der Jugi niemand da, der für Nachtruhe gesorgt hätte. Der Allgemeinkühlschrank stank fürchterlich, das sich daneben befindliche Spühlbecken war dreckig und diente als Ameisenstrasse. Schade; das nächste mal kann ich für den gleichen Geldbetrag ins saubere Ibishotel.
Susanne,
Mon 20 Jul 2015