With more than 4,000 hostels worldwide in fantastic and unique locations. Find your dream experience Hostelling International
Sorry, this content is not currently available in the mobile view. Switch back to desktop view to access this page.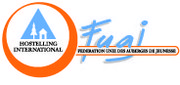 Annecy
A place of exceptional beauty. Enjoy the terrace with views of the lake and mountains.
annecy
What travellers think
Travellers that stayed here think this hostel is best for
Sightseeing
Sports & Activities
Nature-lovers
Relaxing
---
Reviews
Le cadre est réellement magnifique, vue sur le lac depuis la chambre (pas toutes les chambres), petit déjeuner à l'extérieur (vue sur le lac). Un coin détente est à disposition, avec vue sur le lac aussi, par contre, il est fort dommageable de ne pas pouvoir en profiter au-delà d'une certaine heure, surtout par ces périodes de chaleur où l'on ne trouve un peu de fraîcheur que dehors en pleine nuit : un membre du staff dort en caravane juste à côté et ne connaît pas les boules Quiès apparemment.
Fannette,
Thu 02 Jul 2015
It's a bit far from the station, but a nice walk nonetheless, and a very nice spot with good views. Too many sugary options at breakfast (not enough non-sugary alternatives)
Mark,
Wed 01 Jul 2015
La douche dans les chambres. C'est juste pas possible. L'humidité est incroyable dans les chambre on a du mal à respirer. Etre réveiller par quelqu'un qui se lève ou ronfle est habituelle dans les adj. Par contre devoir se taper les crachats ou les bruits de la douche. Non. Très bon petit dejeuner par contre. Amabilité vraiment réduite, très peu d'explication, j'ai été obligé de leur demander pleins de choses ne serait ce que pour avoir le wifi ou comment marche la clé. Très grosse déception.
GUILLAUME,
Sun 28 Jun 2015