With more than 4,000 hostels worldwide in fantastic and unique locations. Find your dream experience Hostelling International
Sorry, this content is not currently available in the mobile view. Switch back to desktop view to access this page.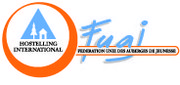 Aix les Bains
The hostel is located on the shores of the lake of Bourget, in the heart of the Savoie, in the middle of the Alps.
aix-les-bains
What travellers think
Travellers that stayed here think this hostel is best for
Nature-lovers
Sightseeing
Sports & Activities
Relaxing
---
Reviews
Having two canaries in the kitchen is a bit weird and very annoying when they start chirping loudly while cooking! Health and Safety? Many basic cooking utensils missing like peeler, knives, pans etc, but cooker very good. WiFi unavailable contrary to website info. Free public bus very useful - remember to ask at check in. Breakfast rather poor compared to Annecy and Lyon. Room size good and slept well.
DAVID,
Fri 19 Jun 2015
la personne qui faisait l'accueil le soir de notre arrivée, n'était vraiment pas ni accueillante ni aimable. Il y avait un groupe de jeune, les adultes qui les encadraient et qui se trouvaient en face de notre chambre on fait du bruit très tôt. Dommage. Mais merci quand même.
Nadine,
Sat 16 May 2015
La personne qui était la le soir de notre arrivée, était charmante très disponible. Les portes de l'extérieur était ouverte le matin, les t° encore un peu fraiches impossible d'utiliser la douche avec un tel froid. La lumière du plafonnier de la ch, ne fonctionnait pas le soir. Dommage au petit déjeuner, choix avec deux confitures.Les gens de la cuisine avait un peu hâte de débarrasser, même avant l'heure. Mais merci quand même, proche du lac, le lieu est idéal
Nadine,
Sat 16 May 2015
peu fréquenté à cette époque (début mai).Donc tranquille. Bien situé pour pratiquer tous les sports ou même visiter la région. Par contre, le petit déjeuner est assez limite : des corn flakes bas de gamme , 1 jus d'orange si vous arrivez tôt . Pas de yaourt, ni vrai céréales, ni fruit , ni miel ni nutella ou similaire..juste 2 choix de confitures . pas de beurre salé. Le pain est très bon par contre !
Sylvie,
Wed 13 May 2015