Avec plus de 4 000 auberges de jeunesse à travers le monde dans des endroits fantastiques et uniques. Vivez l'expérience dont vous rêvez... Hostelling International
Désolés, contenu actuellement indisponible en affichage mobile. Revenir à l'affichage bureau pour accéder à cette page.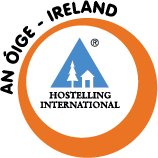 Tripbook Hostelling International pour
Ireland BBE 2014 10 day itinerary
18 Entrées
Last year our Big Blog Exchange winners exchanged countries, blogs and cultures with each other for 10 days - and this year sees the turn of 16 new bloggers! This year one of our winners will be heading to the incredible country of Ireland. Known for it's vast spaces of stunning natural beauty, it's vibrant atmospheric cities and of course, Guinness. The people of Ireland are known for their warm, lively and welcoming nature - and we're sure they will welcome our blogger with open arms! They will get to visit the electric capital city of Dublin and the contemporary city of Galway, along the way taking in the picturesque landscapes and getting a real feel for Irish life.