Avec plus de 4 000 auberges de jeunesse à travers le monde dans des endroits fantastiques et uniques. Vivez l'expérience dont vous rêvez... Hostelling International
Désolés, contenu actuellement indisponible en affichage mobile. Revenir à l'affichage bureau pour accéder à cette page.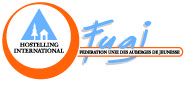 Tripbook Hostelling International pour
10 Days in France
19 Entrées
Follow the footsteps of our Big Blog Exchange winner and experience France through real life journeys. Discover local recommendations, immerse yourself in native culture and explore off the beaten track. Beginning in the iconic capital city Paris, your journey through France is guaranteed to be full of beauty and culture! Experience the charm of the east as you venture into Strasbourg, taking in stunning views and sampling local cuisine. Lyon, Marseille, Rennes and Amiens are four other cities on your itinerary which all have something unique to offer. With amazing landmarks, walks, restaurants and bars to immerse yourself into, you'll get a great taste of the country.